There are more and more books being published in lesbian fiction. So, here at Ylva, we thought it was time to take a closer look at what's hot and selling at the moment.
It will come as no surprise that in mainstream, m/m, and lesbian fiction—wherever you look—romance is THE most popular and best-selling genre all over the world. Readers love happy endings, and most of them want a happily ever after. Beyond that, some subgenres of lesbian romance are doing better than others, and some tropes are more sought-after than others. So, let's have a look at the trends in lesbian romance:
Lesbian Contemporary Romance is the Winner
Contemporary romance is the largest subgenre and I bet you all knew that. But even here, within that subgenre of lesbian romance, some tropes and settings are more successful than others.
Is there a lesbian doctor in the house?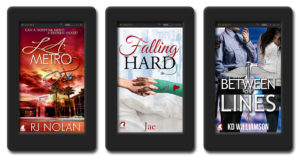 Lesbian medical romances fly off the shelves. There's just something about lady doctors… Mix them with cops, and you have a ton of happy readers out there. What's important in the medical romance subgenre is to get your research right. You can get away with describing not a lot of medical stuff. But whatever you describe and show has to be accurate.
And we have the books to prove this theory. Ylva bestsellers in this subgenre of lesbian romance are: Falling Hard by Jae, L.A. Metro by RJ Nolan, and Between the Lines by KD Williamson.
The kids are all right – especially for book sales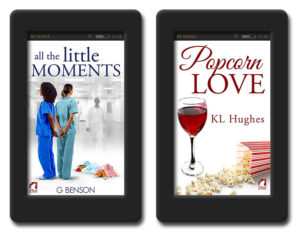 Another trope that readers love are families, aka two women and at least one kid. Yes, some readers stay as far away as possible from those kind of lesbian books, but a lot of readers can't get enough of them. Several years ago you had a hard time finding even one lesbian romance with that trope; nowadays you see it more and more often. What's important is getting the kids right. There is nothing more annoying than a six-year-old acting—and talking—like a seventeen-year-old and vice versa.
Two Ylva bestsellers that prove having kids in lesbian fiction are winners are: All the little Moments by G Benson and Popcorn Love by KL Hughes.
Having a laugh with your lesbian romances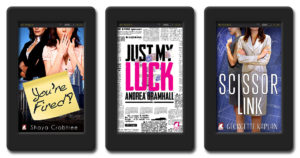 Last but not least, lesbian romcoms are so popular right now. It seems that the more real life (aka politics) sucks all the energy out of everyone, the more people are looking for a funny read. Be it fake marriage, enemies to lovers, or chick lit, all of those tropes are well loved by readers who want some escapism.
Ylva books that show reads love a laugh include Just my Luck by Andrea Bramhall, You're Fired by Shaya Crabtree and Scissor Link by Georgette Kaplan.
No sex please, just the sweet, sweet kisses
Did you know that there is name for romances without sex? "Proper Romances" or "Sweet Romances" are also a huge market, and they prove there don't have to be sex scenes in romances to make them successful. Some readers are actually happy about books without them.
I'll see your mainstream genre, and raise you some lesbians
Fun fact: Every genre you can think has a romance subgenre equivalent. We'll cover them in detail in a loose series of blog posts over the coming months, be they Lesbian Historical Romance, Lesbian Romantic Suspense, Lesbian Paranormal Romance, Lesbian Science Fiction Romance, Lesbian Fantasy Romance, Lesbian Time Travel Romance, Lesbian Multicultural Romance, and last but not least, Lesbian Erotic Romance.
To sum it up, the cool thing is that the variety of lesbian romance novels is endless. There are so many possibilities out there, and the greater the variety, the better.
What kind of books are your favorites in lesbian romance?
Astrid Ohletz is CEO of Ylva Publishing. Being able to publish books where subtext is maintext is a dream come true for Astrid. In her free time, she writes stories under the pseudonym Emma Weimann.