Astrid Ohletz
Managing Director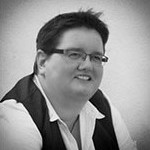 Astrid Ohletz has an education as a library assistant but worked as a legal secretary for one of the partners of a large, international law firm for more than ten years before she became a publisher. Publishing combines her love of books with her understanding of legal and economic issues.
Being able to publish books where subtext is maintext is a dream come true for Astrid.
In her free time, she writes stories under the pseudonym Emma Weimann.
Daniela Hüge
Operations Director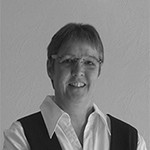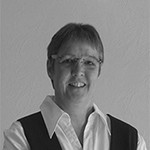 Did Daniela ever consider being part of a publishing house? The answer is clearly and precisely: no. When she was young there was only one thing she wanted to do: become an animal keeper. So she did. After working with cold-blooded animals for ten years, she went to night school and met Astrid. That's when life changed.
Somehow, this animal-lover got stuck in the world of books and now holds a Master of Arts Library and Information Science (MA LIS).
Sandra Gerth
Senior Editor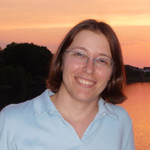 Sandra Gerth works as a content editor with some of our authors, acts as a liaison between our authors and the rest of the production team, and plays editing ping-pong (discussing dangling participles, commas in compound predicates, and other fun things) with our editorial consultants.
She has a degree in psychology from the University of Freiburg and a certificate in editing from the Academy of German Book Trade. She's an award-winning author in her own right.
Marketing/Social Media Team
Andrea Bramhall
Events Manager UK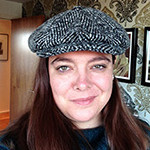 Andrea Bramhall wrote her first novel at the age of six and three-quarters. It was seven pages long and held together with a pink ribbon. Her Gran still has it in the attic. Since then she has progressed a little bit and now has a number of published works held together with glue, not ribbons, an Alice B. Lavender certificate, and a Lambda Literary award cluttering up her book shelves.
She studied music and all things arty at Manchester Metropolitan University, graduating in 2002 with a BA in contemporary arts. She is certain it will prove useful someday…maybe.
When she isn't busy running a campsite and hostel on the North Norfolk Coast, Bramhall can be found hunched over her laptop scribbling down the stories that won't let her sleep. She can also be found reading, walking the dogs up mountains while taking a few thousand photos, scuba diving while taking a few thousand photos, swimming, kayaking, playing the saxophone, or cycling.
Steffi Achilles
Crossmedia Expert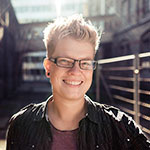 Steffi Achilles loves doing almost everything involving new media e.g. layout, formatting, and using all kinds of weird Adobe software. Other than that they like watching American television, especially fictional drama and sitcoms. One day they couldn't justify their addiction any longer, so Steffi decided to write a doctoral thesis about tv show's LGBTQIA characters. Now they can watch as much tv as they want portraying it as work. Whereas Steffi is rather reticent in "real" life, they love their private Twitter filter bubble.
Steffi grew up in North Germany but lives near Frankfurt am Main for quite a few years now. Sadly, they miss the ocean very much, so if you want to make Steffi happy send them to a peaceful location overlooking the sea.
Lee Winter
Digital Content Manager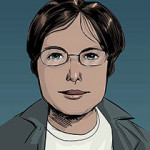 Lee Winter has bounced all over Australia as an itchy-footed, award-winning journalist. For almost three decades she covered everything from hard news, courts, crime, and television, to feature writing, as well as turning her hand to being a humor columnist and a sub-editor. When she wasn't falling in lust with every new-fangled gadget or picking apart the bizarre world of US politics, she could be found spending every waking moment furtively scribbling novels.
Lee is now a full-time author and part-time editor at Ylva. She is also our Digital Content Editor, editing or writing our blogs and various content we produce for the public. Lee says that being part of Team Ylva makes her as "thrilled as a Rottweiler with a tennis ball." We hope that's a good thing.
Gill McKnight
Project Manager & Editor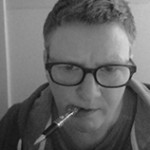 Gill McKnight has been involved with lesbian feminist publishing since the late 1980s, with Attic Press (Dublin), Alyson, Bold Strokes Books, Cleis Press, and now Ylva Publishing. She started out as a cartoonist for Meadhbh Publishing (Belfast) and syndicated for Women's News, Gay Irish News, as well as several mainstream newspapers while studying art and design at the University of Ulster.
Gill went on to gain a masters in feminist criticism and history of art at Leeds University. She has contributed to, and edited several arts magazines and publications.
She is an associate member of the Society of Editors and Proofreaders and keeps a secret journal where she writes about you all..
Michelle Aguilar
Editor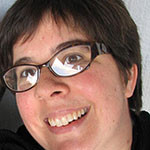 Michelle Aguilar has been working as a writer and editor since 1995, when she received her BA from Hampshire College in journalism and media studies and began pounding the beat as a newspaper reporter, learning the craft of writing and copyediting in a tight-deadline environment. She also worked for several years as an instructor, where she helped adult learners not only gain their high school equivalency diploma, but also find their voices through writing. In 2007, she shifted her focus towards editing fiction, particularly fiction written by women for women. She has also worked extensively with writers for whom English is a second language. She currently lives in western Massachusetts.
Fletcher DeLancey
Editor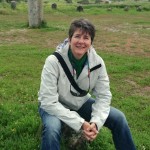 Fletcher DeLancey has been editing one thing or another since becoming editor-in-chief of her high school paper in the mid-80s. She combined a BA in English from the University of Oregon and a lifelong love of science to launch a career writing and editing in the scientific field, ranging in style from informal (for laypeople) to rigidly formal (for journals). Editing fiction is a different application of the same skills, with the same end goal: making the author look good.
She now lives in southern Portugal, and tries not to reveal how often she does her work on a sunny veranda, in shorts and bare feet.
D. Peterson
Editor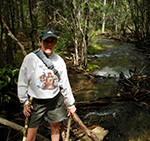 Day, a former English teacher, began editing in 2000. In the years since, she's worked extensively with independent authors and established companies such as PD Publishing and Blue Feather. She's pleased to join her wife under Ylva's umbrella.
CK King
Editor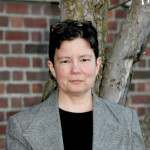 CK King is a curious enigma who straddles the line between left brain and right. The leap of faith felt more like balanced steps across the stones of a favorite crick to move from reading to editing. A lifelong love of words and stories, a study  of linguistics, beta reading, and completion of the copyediting program at UCSD have brought me opportunities to edit for authors around the globe. That copyediting certificate, a BA in accounting, and thirty years of business management give me the confidence to trust my education and my instincts. Currently living in New Zealand with my partner and our three teens, I will always be at home in  the rivers of upstate New York and the high desert of New Mexico in the States.
Alissa McGowan
Editor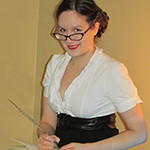 Alissa is a self-professed geek and written word addict who has been hooked from the day her grandma first taught her to read. Her lifelong love affair with language naturally led to two degrees in English literature and a career in editing and writing. In 2012, she left her day job as a corporate proofreader to start Red Pen for Rent, an editorial services company that later grew into a self-publishing support company. She also teaches developmental writing at Chattanooga State Community College and is a member of the Editorial Freelancers Association.
Alissa edits in many genres, from fantasy to self-help to academic monograph, but lesbian fiction is one of her favorites. Her other passions include black-and-white 35mm film photography, writing (she is currently serving as president of the Chattanooga Writers' Guild), hosting murder mystery parties, spoiling her nephew, and all things geeky. Alissa lives in Tennessee with her sole feline companion, Benny, although she aspires to have many more cats (and a horse) one day.