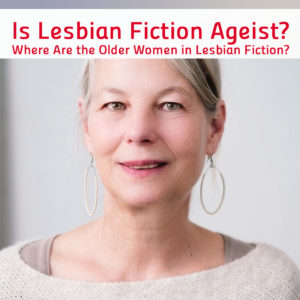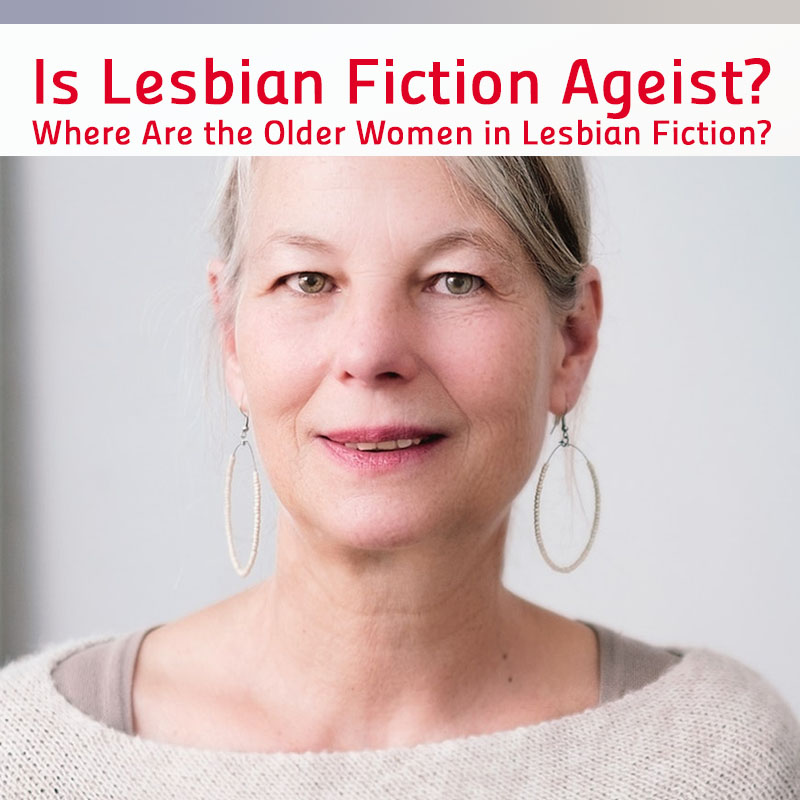 Lesbians over fifty in real life are as commonplace as Cate Blanchett crushes and Miranda Priestly's steaming-hot lattes. But within the pages of our books, where are the older women?
I'm not talking about older, secondary characters—the quirky neighbor, the feisty mother-in-law, or eccentric co-workers stanning young love. I mean the sheet-ruffling, mind-melting, romantic leads. Where are our fifty-plus media-mogul Cat Grants, detective Olivia Bensons, and hospital chief Miranda Baileys as lesbian protagonists? Strong, fascinating women who love women, who are sexy, complicated, experienced, and, crucially, hold the main storyline?
Too few older protagonists, or not enough demand?
After researching this question for weeks, I think it comes down to this: Readers often say authors aren't writing fifty-plus protagonists. And many authors believe readers won't buy them if they do.
On that first point, readers aren't wrong. With the help of the well-read followers at the Lesbian Review Book Club, as well as authors and readers elsewhere, I've compiled a list of books with at least one lesbian protagonist over fifty. The final tally comes to thirty authors who've written forty books. (A full list is included at the end.) I've excluded any otherworldly and/or unnaturally aged beings to level the playing field.
Obviously there will be a few more out there, but for the purposes of this discussion, it's sobering to see we're talking only about forty books out of thousands of lesfic titles.
So, readers are right to point out they can't read what's not there. But are authors right, too? Are people reading what is there?
The answer depends on who you ask.
Older women mean sales for Harper Bliss
Lesbian fiction's MVP of fifty-plus protagonists is Harper Bliss. She has six books on the fifty-plus list, as well as several more characters in their late forties.
Harper, 40, says she's a proud and respectful holder of a "cougar fetish". She writes about older ladies because "they come with much more baggage, which can create bigger story opportunities".
A self-publisher, Harper's heard all the "older women don't appeal to readers" arguments.
"(Some authors) think readers of lesfic are young and only want to see themselves reflected," she says. "I've heard the same thing from publishers. I was in talks with a publisher for translation rights of some of my books and they flat-out told me most of my characters were too old to appeal to their audience."
Has she found having older characters has affected sales?
"On the contrary," Harper says. "Aside from my books selling really well, I get so many emails from readers telling me how much they appreciate that I write about older characters. This has encouraged me so much—not that I needed much encouragement!—that I started a series called Silver Linings in which all the protagonists are at least in their forties."
The trade-off for being age-inclusive
Author Karin Kallmaker also hears the clamor for including "under-heard" voices as protagonists, but finds that doing so comes with a sales trade-off.
"My finding, purely anecdotally, is that vocal and engaged readers ask for, read, and talk about books with representation of under-heard voices, but the wider marketplace does not support them," Karin says. "There's a clear choice between content and paycheck, putting authors in a real pickle in our hypercompetitive marketplace."
A five-minute glance at that hypercompetitive marketplace shows there's definitely a clear push towards young women as protagonists. But not just, young, either. Cover after lesbian fiction cover contains pure female perfection. And inside, it's often the same: youthful goddesses only need apply.
Fickle focus on perfection in lesbian fiction
So why are flawlessness and younger women the go-to norm in lesbian fiction? Simple: fantasies sell, right? Come on, no mystery here, everyone knows that's the deal.
But is it? Interestingly, the jury seems to still be out.
At the most recent Las Vegas Golden Crown Literary Society's conference, one panel examined whether lesfic writers put too much emphasis on "pretty, young, able-bodied, thin women". Moderator and author Susan X Meagher spoke to reps from the "top five lesfic publishers" as they mulled over that question.
"Three of them said books with characters who did not fit the pretty/young/thin mold sold significantly fewer copies," Susan says. "One publisher said they didn't see a fall-off so long as they didn't make a point of it on the cover or in the blurb. The last said their readers only wanted a good story, and didn't care what the characters looked like.
"Some of our panel members really like writing outside that pretty/young/thin stereotype, and they didn't seem to think it hurt their sales. But it's not like looking at sales of bowling balls. So many factors go into selling a book, and I can't imagine comparing sales of one to the next with any certitude."
Our negative stereotypes hurt mold-breaking books
A major factor in book choice comes down to expectations. Many readers love being swept up in a romantic tale. So, naturally, many will avoid a book with any main character they think will stop them being drawn deep into their fantasy.
How then can an author convey that their unstereotypical book is nothing like what a reader has in their mind? That perhaps a negative stereotype about older women (or larger women, or minorities, or people with a disability) will still completely captivate them?
Because why can't a fifty-year-old CEO in a pencil skirt be seen just as sexy (and more believable) than a twenty-eight-year-old? But how can publishers or authors convey all that in just the few seconds that a reader glances at a cover and scans a blurb seeking their next escapist hit?
Selling a sexy Helen Mirren, not your gran
Author Clare Ashton, who has embraced a few fifty-plus lead characters, sums up the problem.
"Part of the difficulty is writing a blurb that overcomes preconceptions," Clare says. "Your novel may very well feature Helen Mirren but making her come across in those few lines as anything other than your gran in wrinkled stockings is challenging. I've found once readers are into a book though, the older woman always steals the show."
Being enraptured by show-stealing feisty older women is a common reaction for readers who've taken the plunge on books with older leads. However all of this may sound like a lot of hard work to authors. It's incredibly easy to drop a protagonist's age, shrug, and move on. So why should they even bother?
Older experiences are different
Author Jeannie Levig, who writes forty and fifty-plus protagonists "and probably soon heading into sixty", sees older leads as important for several reasons.
"It's important for mature women to be able to see characters their age still falling in love and enjoying a sexual relationship," Jeannie says. "I know I am much different now than when I was in my twenties and thirties, so I experience things differently…
"I know more now and have a deeper understanding of why things are the way they are, and why some people might do things. I'd like to see those views and ways of being in what I'm reading, and I certainly put them in the books I write."
Visibility counts for readers
For 64-year-old Australian author Jane Waterton, it's about the visibility. She found it frustrating seeing only the same kinds of protagonists in lesbian fiction.
"I was getting tired of reading about six-foot, green-eyed, gorgeous women with the physical dexterity of an octopus and the sexual energy to match it," Jane says. "When I looked in the mirror and looked at all my friends, I saw something very different.
"I wanted a book that portrayed older lesbians in a positive, sexy, feisty way; that celebrated growing older – and acknowledged that they had been there, done that, and trashed the T-shirt."
So she wrote her own – a humorous tale about a motley, amusing group of queer women in an Australian retirement home, Times of Our Lives.
"We are all getting older and we now realize we want books that we can relate to. There are authors out there writing books with entirely older lesbian characters, but we are still the minority and you have to search for them."
Older women have sex too…get over it!
As for any authors or readers who assume that only hot young things twirl naked from the chandeliers, Jane says this: "They often forget that sexuality is not just the predilection of youth. Guess what…older lesbians are just as sexual as young ones. However, many young people seem to have a real problem with thinking about old people having sex.
"They also forget that older lesbians have survived a great deal in their life. We are not ready to be put in a nursing home with a warm mug of cocoa. Some (authors) write wonderful characters, but don't stereotype us. Just because we are older, doesn't mean we are suddenly all the same!"
Jane believes the sky should be the limit as to what older protagonists get up to in books.
"I love the thought of octogenarian superheroes," she says. "One of the great things about getting older is your invisibility by the mainstream. You could cheerfully go and fight crime, beat up the bad guys, create chaos and mayhem, and never be suspected!
"I currently have an amazing plot that involves kidnapping, blackmail, and saving the free world, by a small group of 60-year-olds. If I can work out how to put it on paper without getting arrested, I'll write it!"
The Over-Fifty Protagonists Lesfic Masterlist
If you know of any more titles, add them to the comments so we can create a definitive list. No immortals, though. Sorry to fans of vampires, faeries, and superheroes!
Brenda Adcock Pipeline and Reiko's Garden
Lynn Ames Eyes on the Stars
J.A. Armstrong By Design series
Clare Ashton After Mrs Hamilton and The Goodmans
Marianne Banks Keepsake Self Storage
Petrina Binney Sex, Death & Canapés
Harper Bliss No Greater Love Than Mine, In The Distance There is Light, No Other Love, Seasons of Love, A Swing at Love, French Kissing: Season Four
Andrea Bramhall Swordfish and Lost for Words
Avery Cassell Behrouz Gets Lucky
Addison M. Conley Falling for Love: A West Virginia Romance
Jean Copeland The Second Wave
R.D. DeLisle Miranda and Colette
Genevieve Fortin Dingo's Recovery
Gerri Hill The Roundabout
Karin Kallmaker Touchwood and Roller Coaster
Lola Keeley The Music and the Mirror
Kathleen Knowles Warm November
Catherine Lane Heartwood
Jeannie Levig A Heart To Call Home and Embracing the Dawn
Clare Lydon It Had to Be You
KG MacGregor Mulligan
Martha Miller Retirement Plan
Cindy Rizzo Getting Back
Jane Rule Memory Board
Diane Salvatore Paxton Court
Alison R. Solomon Along Came the Rain
Jen Silver Arc Over Time
Alex Spear Out
Kate Sweeney Love At Last
Shelley Thrasher Autumn Spring
Yolanda Wallace The War Within
Jane Waterton Times of Our Lives
Nancy Werking Poling Out of the Pumpkin Shell
Caren J. Werlinger She Sings of Old, Unhappy, Far-Off Things and Neither Present Time
Kieran York Appointment with a Smile
Fiona Zedde Hungry For It
Copyright picture above: unsplash.com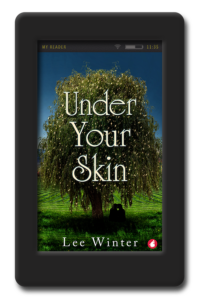 Lee Winter is an award-winning veteran newspaper journalist who has covered courts, crime, news, features and humor writing. Now a full-time author and part-time editor, Lee is also a two-time Lambda Literary Award finalist and a double Golden Crown Literary Award winner. She has just published Under Your Skin with Ylva.