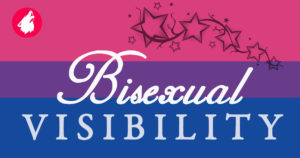 Bisexuality.
It's eleven letters, but for some in the lesbian community it might as well be a four-letter word to take offense at, like "fuck" or "cunt."  You know what I mean; those words that just get people up in arms.
I got a crash course in the concept a couple years back. I was naïve back then. I'm black. I'm a lesbian, and I'm butch, the trifecta if you will. As such, it just didn't even occur to me to have anything against anyone of any sexuality. For some reason, I thought everyone in the lesbian/gay community thought that way.
Yeah, that's how naïve I was.
Bisexual characters and proud of it
So, when I was discovered by Ylva Publishing, I had no idea that readers would have a problem with the characters I created, especially since they had some initial footprints in fanfiction.
I pour my heart, my thoughts, my hopes into my characters to make them come alive. I did the same with Nora Whitmore, one of the main characters from Blurred Lines and Crossing Lines. She was strange, intense, blunt, sexual, and possessed a huge capacity to give and to love that she didn't even know about.
One more thing: She was bisexual.
Not just for show. Nora was depicted as sleeping with men and women within the book.
Gasp!
A marginalized community marginalizes others
I never viewed this as problematic. To me, I was being true to her character, making her come to life. I don't believe in glossing over things. While the books were warmly received by many, there were a few who protested the inclusion of a bisexual character in a lesbian romance.
In short, there was protest because I put her in bed with a man.
Hold my beer.
More than once.
That's when it hit me like the proverbial ton of bricks—people in a marginalized community still can't help but marginalize others.
Marinate on that one.
My eyes were opened big time, and I started seeing things for what they were. Social media helped with that. As an active participant in Facebook and its many groups geared toward lesbian fiction and the LGBT community as a whole, I saw lesbians who were involved in the continued struggle for equality, understanding, inclusion and so on, try to deny this to others because they were bisexual.
Whaaat?
Books written by bisexuals shouldn't be counted as lesbian fiction.
Books with bisexuals as main characters shouldn't be counted as lesbian fiction.
Lesbians said these things. Lesbians put these things in writing. Right in front of my salad.
People lash out at what they don't understand. People lash out at what they fear. We see it glaringly today. Charlottesville, anybody?
Bisexuals aren't stealing lesbian safe spaces
I get that there is a shortage of lesbian-only spaces. I get that some people need them, but is it okay to try to force that need, that belief on others? Is it okay to alienate others because of it? Fear, especially that fear of disappearing, that fear regarding lack of safety, can culminate in some reckless, hurtful things.
The community as a whole knows what it is to be hurt by others because of who we love, right?
Right?
Time to ditch the division
We deal with hate on a daily basis, on an institutionalized basis. It doesn't seem okay to do that to others no matter what your reasons. Engaging in that kind of biphobic behavior feeds into the monster that already exists.
Let me put it this way: As a black person, I know there are divisions in my culture based on skin color, class, and education. Where has that gotten us? More divided. More vilified. More chaotic.
Has biphobia improved anything in our general community? In lesbian fiction?
I had a relative who said to me once that he didn't understand why black people were so mistreated sometimes because no matter what's done to us, we're here and always will be.
Switch it around. We're all here. We're all queer. Get the fuck used to it.
KD Williamson is the author of Blurred Lines, Crossing Lines, and Between the Lines (Cops and Docs Series). She is also a veteran in the mental health field working with children and their families for over ten years.