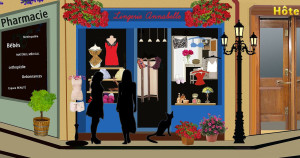 Two women are standing on a sidewalk looking into the window of a sex toy store. One is hyper aware of the products on display. Her companion's easy smile is caught in the window reflection, as though she frequents sex toy stores all the time.
That's the brief the authors got and the start to several awesome new novels and novellas in Ylva's Window Shopping Collection.
Where each shop is, and why two women might be peering inside them is left to the vivid imaginations of our talented authors—Catherine Lane, KD Williamson, Andrea Bramhall, L.T. Smith, Cheyenne Blue, Meg Harrington and Emma Weimann.
Hit the shops with us throughout 2017 and 2018 as each book comes out and we all get to discover what's behind that window, and what's on the mind of our ladies as they peer inside.
First trolley down the aisle  is Catherine Lane's Tread Lightly, a fabulous romp involving fairy godmothers and rival guardian angels.
Stay posted over the next twelve months as we update you on each new book.