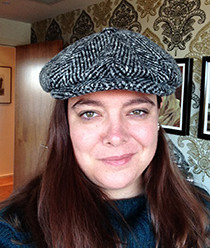 Andrea Bramhall wrote her first novel at the age of six and three-quarters. It was seven pages long and held together with a pink ribbon. Her Gran still has it in the attic. Since then she has progressed a little bit and now has a number of published works held together with glue, not ribbons, an Alice B. Lavender certificate, a Lambda Literary award, and a Golden Crown award cluttering up her book shelves.
She studied music and all things arty at Manchester Metropolitan University, graduating in 2002 with a BA in contemporary arts. She is certain it will prove useful someday…maybe.
When she isn't busy running a campsite in the Lake District, Bramhall can be found hunched over her laptop scribbling down the stories that won't let her sleep. She can also be found reading, walking the dogs up mountains while taking a few thousand photos, scuba diving while taking a few thousand photos, swimming, kayaking, playing the saxophone, or cycling.
CONNECT WITH THIS AUTHOR: