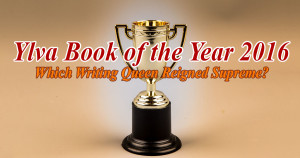 The votes are in, and oh-so many of you voted. But there can only be one winner for Ylva's Book of The Year 2016, and that was…drumroll, please…Four Steps by Wendy Hudson, for her romantic suspense novel with heartache, love and a fight for survival in the Scottish Highlands.
Wendy had 348 votes out of 1,406, and takes home bragging rights in a win that's all the more impressive since it was her debut novel.
Also right up there, just 6 votes behind her (342 votes), was A.E. Radley, for her popular debut romance novel, Flight SQA016.
In third place, with 197 votes, for her cello-playing underworld killer, was Lee Winter's Requiem for Immortals.
Meanwhile, over at the checkout, the top three e-books of the year by sales were all cops and docs stories—Blurred Lines by K.D. Williamson was our best-selling book, ahead of Wounded Souls (R.J. Nolan) and Crossing Lines (also K.D. Williamson).
Thanks for all the votes and your wonderful comments. Of those who left comments, the randomly selected winners of the four signed Ylva books are:
Jules D wins Requiem for Immortals by Lee Winter
April wins Welcome to the Wallops by Gill McKnight
Cat wins Collide-O-Scope by Andrea Bramhall
Allison wins Heart Trouble by Jae