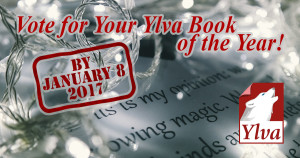 From vampires, assassins, thieves, cooks, heiresses, detectives and doctors to swashbuckling alien sword masters, Ylva has had a richly diverse publishing year. The biggest-selling e-book this year for us was  Blurred Lines by K.D. Williamson, ahead of Wounded Souls (R.J. Nolan) and Crossing Lines (also K.D. Williamson), which shows our readers really love their "cops and docs" romances.
Putting aside sales figures alone, let's talk favorites. Which book captured your heart, and became an instant must-read-again classic? Which book did you nag your friends excitedly about, that they absolutely had to, HAD TO read now? What was the Ylva Book of the Year 2016 for you?
The rules to enter are simple – one vote per person. To vote, click the circle beside your favorite book on our list of forty-four titles. The winning author, who gets bragging rights, will be the one who has the most votes come January 8, 2017 at 12.01am EST time. We'll let you know who won shortly afterwards.
Wait, there's more!
On top of this: If you let us know WHY you liked the book so much, you could be one of four readers who will win a signed copy of one of these popular Ylva 2016 releases:
– Requiem for Immortals by Lee Winter
– Welcome to the Wallops by Gill McKnight
– Collide-O-Scope by Andrea Bramhall
– Heart Trouble by Jae
To be in the running for this prize, just scroll down to the comments section at the end of this blog, and write the book name you voted for and your reasons for liking it. After January 8, we will randomly draw four lucky winners who will each be sent a signed paperback. The contest is open to anyone in the world.
Get out and vote and tell your friends!
The contenders: