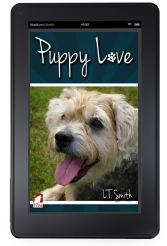 What are you doing this Sunday? How about spending a lazy day on the sofa with your e-reader and this sweet fellow?
For our Super Sunday Special sale this weekend, we bring back Puppy Love, one of our earliest publications by beloved lesfic author, L.T. Smith. If you're having trouble waiting for L.T.'s new book, Driving Me Mad, to come out in early 2016, then this is a great opportunity to get your romance fix.
When we first published this novel in 2013, reviewers on Amazon and Goodreads gave rave reviews to this light romance and would-be couple Ellie and Emily, who are a little bit neurotic and a lot clueless as they each strive to become Charlie's new owner and take their sweet time realizing that they are made for each other.
This Sunday only, the e-book of Puppy Love will be available for the special price of $2.99 only in the Ylva online shop.
So come pay us a visit Sunday morning, and spend the afternoon with Ellie, Emily and especially Charlie – if this adorable Border Terrier doesn't win your heart, then you might just not have one.
Read more about Puppy Love by L.T. Smith.