Australian author Liz Rain is back with a timely tale, Onside Play. She shares why she wrote a sporty second-chance lesbian romance set during the Women's World Cup 2023.
Your debut lesbian romance Perks of Office was all about politics; now you're kicking a soccer ball around. Why a sports story and why women's soccer specifically?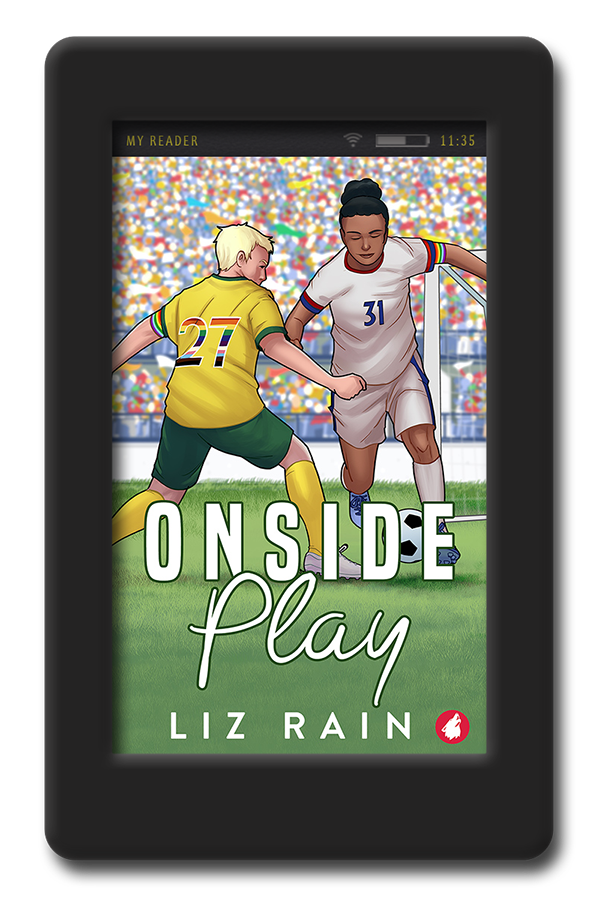 I love women's sport. It's a way for women's physicality to be celebrated in such a positive and inspirational way. Plus, I love how gay a lot of women's sports are.
My in-depth research for this book (i.e., following lots of good-looking soccer stars on Instagram) revealed that soccer is, as I suspected, filled with women loving women (wlw).
Take my beloved Aussie Matildas squad—our captain Sam Kerr is dating Kristie Mewis on the US national soccer team, and our star defender Ellie Carpenter is dating Danielle van de Donk on the Dutch national team. There is no need to manufacture sapphic drama when it comes to team sports, it's already all there!
With all these sporty women getting together, and sometimes breaking up, I wondered what it would be like to have to manage facing an ex with the added pressure of an audience, stadium lights, and TV cameras.
I got the idea for writing a story about two women who had had a fling years before, and the first time they would see each other years later would be when they faced off in a massive game, like at the Women's World Cup. So, Onside Playwas born!
Tell us about the characters and plot of Onside Play. And can we expect to see an easy-going Ted Lasso coach or more of a Sue Sylvester hard-ass coach?
The main character is an Aussie named Keeley McGee who is a defender for the Australian women's national team, the Matildas.
The love interest is Christine Delacourt, cool and untouchable star striker for the US women's national team.
We meet Keeley a few months before the 2023 Women's World Cup. She and Christine dated a few years before when they were at a US college together. Christine unceremoniously dumped Keeley, and she hasn't seen her since, but Keeley knows they'll come face-to-face at Australia's opening match of the World Cup.
Will sparks fly? (Hint: Onside Play would only be a few pages long if they didn't!)
Keeley and Christine's soccer coach at Florida State University has definite Sue Sylvester vibes. No Ted Lasso types to be seen in this novel—it's not very likely he'd get a World Cup coaching gig.
Will there be a test on the offside rule or the dates of the Women's World Cup? In other words, what's in your book for readers of lesbian romance with absolutely no interest in soccer?
There will be a test, and you will not be able to purchase Onside Play if you do not pass. Kidding!
Soccer is the setting, but the story elements are pretty universal. You've got lesbian longing, an all-consuming crush, the thrill when that crush turns out to be requited and, of course, a second chance at love.
There's also a dumpster, a make-out session backstage at the Sydney Opera House, and a bus. So, you know, lots of things.
The best friend character, Viv, is someone with no interest in, or understanding of, the game of soccer. But she's sure as hell along for the ride as the romance unfolds.
And this road to true love definitely does not run smooth. Hopefully non-soccer-loving wlw book readers can relate to her.
If you had the talent to be brilliant at one sport in your younger years, which would you choose to play and why? And do you play any sports now?
Definitely Aussie Rules, or AFL (Australian Football League). It's traditionally a men's sport, so there wasn't much of it around (for girls) when I was a kid.
I got to fulfill my dream to play when I was 21. I was terrible, but I loved it! I played a total of three seasons, but the tackling and running are a bit much for me now.
My new-found hobby is pickleball. I play once a week socially against teens, people in their seventies, and everyone in between.
What, if anything, does your political lesbian romance and rival players sports romance have in common? You can't just say romance!
Okay, I can't say romance, but can I say sex? No?
Both books are light-hearted and have comedy elements to the f/f romance. There's a fun crew of workmates (teammates, in the case of Onside Play) and friends.
Keeley from Onside Play and Emma from Perks of Office both think it's impossible that the woman they're pining after will ever feel the same way, and there's fireworks in both books when it turns out they're wrong.
As an Aussie, be honest: Does Australia have a prayer to beat the US in the Women's World Cup 2023?
Australia will beat the US, England, Germany (sorry to everyone at Ylva), Japan, Brazil, and every other team. They will win the whole thing!
What will your next lesbian fiction book be about? Is it too soon to ask?
I'm going to try my hand at a Christmas romance. It's completely written…in my mind. Now all I have to do is type it into my computer!
Liz Rain is from sunny Queensland, Australia, and grew up doing lots of swimming, cricket, and netball. She earned a degree in journalism, then taught English in Japan, where she joined a soccer team to meet girls. Luckily the captain was a very nice American who is now her wife. They live in Logan, Queensland, with their two daughters, a dog and a cat.