We recently asked a few members of our team to give us their five favorite lesbian books. The books that inspired them, made them think, made them laugh, made them cry. After lots of agonizing, they were eventually able to whittle their favorites down to five. We're starting off with bestselling-author and resident blurb-writer, Lee Winter. Here are her five favorite lesbian books: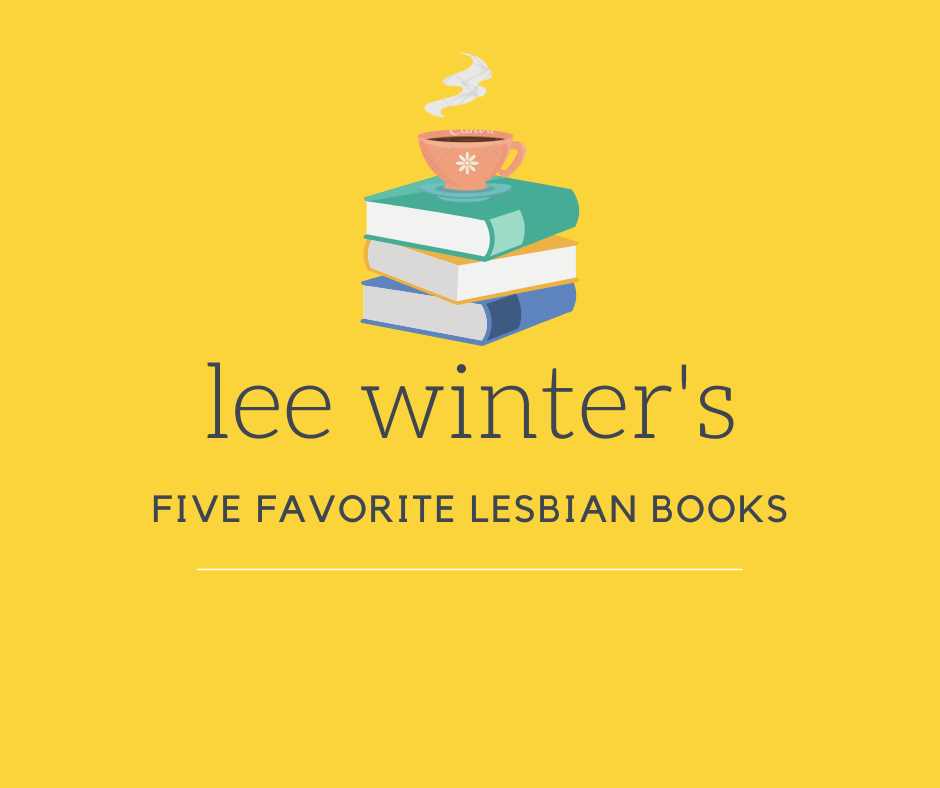 This was my first lesbian book! I read it *a lot* in my younger days. Love Dar, my first ice queen. Swoon.
Anyone who was around during the golden age of Xena Uber fics remembers this story. Melissa good turned her beloved fanfiction into a beloved novel and it remains a fan-favorite all these years later. We have Dar Roberts – cold, practical, and merciless. She's the head of a tech company, so expect lots of great 90s tech jargon. Kerry Stuart is the daughter of a domineering politician father and leaves her home to essentially get away from her crazily conservative family. She meets Dar when the small tech company where she works is taken over by Dar's mega corporation. This is a classic enemies-to-lovers/ice-queen romp. Of course Dar and Kerry fall in love, but to be together, they must overcome Kerry's family and Dar's own demons.
This is a technical, character, and writing masterpiece.
Anna is the newest member of an elite ballet company. Her first class with her mysterious idol, Victoria, almost ruins her career before it starts. When she shows she might be a potential star, Victoria chooses Anna to launch a new season around.
Now Anna must face down jealousy, sabotage and injury, not to mention navigate the circus of friends and lovers within the company. The pressure builds as she knows she must pour everything she has into opening night and prove to her rivals and herself that Victoria's faith in her is not misplaced.
In the process, Anna discovers that she and the daring, beautiful Victoria have a lot more than a talent for ballet in common, and that not every thrilling dance can be found on stage.
This book is hilarious and has a huge reread factor with the best protagonists. I had so many feels.
Ariana "Ari" Geiker lives an isolated life on an imperial space station commanded by her father. The skilled, young botanist rarely leaves her living quarters, where she maintains an elaborate garden. When an imperious older woman is captured from a pirate ship and given to her as a slave, Ariana's perfectly ordered life is thrown into chaos. Her nameless slave is watchful, intelligent, dangerous, and sexy, and seems to know an awful lot about tactics, star charts, and the dread, marauding pirate queen, Mir. What happens when the slave also reveals an expertise in seduction to her innocent mistress?
The Lily and the Crown is a lesbian romance about daring to risk your heart with someone you shouldn't.
A beautiful, touching story that makes you think about it forever.
It begins with a psychological experiment. Celeste Thorne will receive half a million dollars if she can spend four years of her life living in total isolation. Easy money, right?
It all goes well until  she finds an injured hiker in the woods bordering her living compound and her strictly governed world is thrown into disarray. Torn between breaking the rules and her newfound attraction to the the kind and enigmatic Olivia Soldano, Celeste faces a choice. This is a unique love story that will stay with you long after you've turned the last page.
This book has great Aussie humor and the world's iciest ice queen who ever did ice.
Bess Campbell has escaped to the windswept Australian coastal town of Port Bannir, determined to begin her life again. She is loving her fresh start, thanks to her fun job running a hip gallery, her territorial chickens, and a lot of self-help books to find her new, better self.
Port Bannir local Margaret Gale runs an austere maritime museum, and rules her staff with an iron fist. She has no time for that crazy modern gallery or upbeat, earnest Bess sweeping around town on her hipster bicycle. After a heated dispute over an antique collectible dildo, there's little hope Margaret and Bess will ever see eye to eye. But when Port Bannir is rocked by a senseless murder, both women find themselves implicated. Can they work together to expose the truth––or will the truth prove far too dangerous?
A funny, fabulous, cozy mystery filled with quirkiness and a sweet serve of lesbian romance.
That's it from Lee! Watch this space for the rest of our team's favorite lesbian books!
Lee Winter is an award-winning veteran newspaper journalist who has lived in almost every Australian state, covering courts, crime, news, features and humour writing. Now a full-time author and part-time editor, Lee is also a 2015 and 2016 Lambda Literary Award finalist and has won several Golden Crown Literary Awards. She lives in Western Australia with her long-time girlfriend, where she spends much time ruminating on her garden, US politics, and shiny, new gadgets. Find her books at the Ylva store!