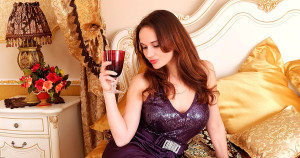 Stunning blondes, with breasts the size of mountains and waists I can get my hands around…and I have tiny hands. Sultry brunettes, with eyes that blaze with passion and fire and sex. Beautiful black women with attitude and an arse that just won't quit. Luscious Latin lovers with curves that go on for days and a temper that will explode like Mount Vesuvius.
Drooling yet?
Thought so. Why not, hey? Descriptions of heroines like this are what we expect, right? What's a proper romance novel without a beautiful protagonist? I mean that's what the fantasy is all about. Isn't it?
Isn't it?
You see, romance stories have this stereotype, this expectation of all the beautiful women falling in love with each other and getting their happy ever after. It's what readers want, right? That's what we're told. That's what we expect. Sex sells, after all, but only if the people involved are beautiful. It's all about the dream, the fantasy, the wish fulfilment that you get from the characters.
I get it, I'm a reader too. But here's the part I don't get…
I started reading lesbian fiction so that I could see myself represented in a media form that I love. Books. At the time, there were precious few other places I could find myself represented, so this was amazing. And I was nineteen and twenty years old at the time, so, damn right I was fantasising about stunning women. ALL THE TIME!
Now, I like to consider myself a more mature woman—a real woman. Maybe even a woman of the world. And I look at these books, read them, and yeah, I find lesbians, and bisexuals, and trans women, all over the place. But I still don't see represented what I was looking for back then and missed the point of. What don't I see?
Real women.
Now, please forgive me here but not all women are beautiful. Hold on, don't shoot me. I know all women are beautiful. Every single one. Just not in the way the media would have us believe they're—we're—supposed to be.
I'll use myself as an example here…I'm overweight. No question I'm carrying twenty pounds that I want to lose. My eyebrows have a tendency towards the Neanderthal mono-brow look that I don't find very fetching. I get hairy toes…I call them hobbit's feet and one is a whole size and a half bigger than the other. I have a number of scars all over me from different accidents and adventures, surgery, and what-not…you know, those things that happen in life.
But this isn't really a pretty picture I paint, is it? If you read that description in a book, would you accept me as your romantic lead?
Somehow, I don't think so.
I don't fit the Hollywood stereotype of beautiful. And I'm okay with that, I don't need to be. But, you see, here's the thing…I'm my own romantic lead. I have a partner. We've been together for fourteen years. I have my happy ever after—well, most days I do.
When I read books now, I'm dissatisfied when I only see the beautiful finding love, and passion, and orgasms. What about the real women? The ones with bad hair days and hairy toes? The ones who have wrinkles and carry too much weight? Or those who can't seem to gain an ounce no matter how much they eat? Wherever you are, please, for the love of God…share your secret with those of us who love cake!
Where was I? Oh, yes, real women and their lack of representation…
I get that many of us read to escape the drudgery of everyday life. I truly do. But don't we need to see that the happy ever after happens to real women just as much, if not more, than to the pretty people? Isn't that just as important? Wouldn't that give us more hope? Seeing a woman who has the same real-life issues that I do, or you do, and finding her happiness…isn't that a story worth reading?
I started writing so I could see the stories I wanted to read come to life. But it's important to me now to see fiction, especially lesbian fiction, grow and evolve and truly begin to represent who we really are as women. Fierce and proud, battle scarred and fragile. Vulnerable and scared, with hairy toes, and double chins, and bony bums, from sixteen to a hundred, and everything in between. But most important of all…real. These are the characters that I want to create now. Beautiful in their reality and in their diversity.
Don't you want to see that too?
When Andrea Bramhall isn't busy running a campsite in Cumbria in the UK's Lake District, she can be found scribbling down the stories that won't let her sleep. She can also be found reading, walking the dogs up mountains while taking a few thousand photos, scuba diving while taking a few thousand photos, swimming, kayaking, playing the saxophone, or cycling. Andrea published Just My Luck and Collide-O-Scope with Ylva.