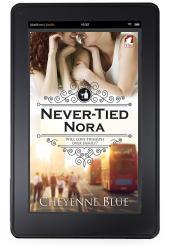 Author Cheyenne Blue, a well-loved short story writer who can be found in countless lesfic anthologies (many of the erotic persuasion, might we add) in the past decade, published her first longer work with us just last month. Aren't we lucky?
Her debut novella is Never-Tied Nora an utterly fun, romantic, and very British tale of star-crossed lovers from feuding families set in London. This is what it'd be like if Romeo had a lesbian sister, (and well, lived in the present) and the Montagues and the Capulets were Irish. So okay, it's not a whole lot like Shakespeare. But it's really, really good.
Cheyenne took out some time from busily working on her sequel to tell us a bit about Never-Tied Nora, about how Fox Terriers helped inspire the plot, and the double meaning of her novel's title. Enjoy!
How would you describe Never-Tied Nora? What is it about?
Never-Tied Nora is a love story highlighting that love is not always convenient, comes when you least expect it, and can't be denied. The main character, Nora Kelly, loves being single, She's a bit of a rogue, working her way through the revolving door that is London's lesbian scene.  She doesn't believe love will ever strike her, but then she meets Geraldine Flannery and falls hard and fast. Trouble is, the Flannerys and the Kellys have been feuding for generations, and this is a major stumbling block for Nora and Geraldine's fledgling relationship
What sparked the idea for this book?
Never-Tied Nora began life as a short story intended for my 2014 anthology Forbidden Fruit: stories of unwise lesbian desire.  The theme of feuding families and the pair of lovers caught in the middle would have fitted into Forbidden Fruit very well.  Trouble was, Never-Tied Nora kept growing, and I realized early on that it would be too long for the anthology.  So I set it to one side for a time while I worked on other things, but revisited it later to expand the story.
How did you come up with the title?
That was one of the hardest things.  Titles either jump out at me really swiftly, or they have to be dug out of my head and tossed around for a long time.  Never-Tied Nora was the latter.  Its working title was "The Kelly Gang," out of desperation, but it wasn't until I conceived the idea of writing a sequel about the secondary characters from Never-Tied Nora, Sue and Moni, that the title came together.  I had a title for this sequel before I'd even written a word of it: Not-So-Straight Sue. Once I had that, I knew the titles needed to connect in some way, and that's when I came up with Never-Tied Nora.   As Nora says: "Never-Tied Nora," my family called me, originally a childhood joke about my inability to tie my shoelaces, but now a reference to my footloose ways and single lifestyle.
Who's your favorite character in Never-Tied Nora?
I have a very soft spot for Nora's best friend, Sue Brent.  Sue's an Aussie, like me, but she's also funny, practical, blunt, and a loyal friend.
What was your favorite part about writing the book?
I had great fun writing Nora and Sue's interactions, but my favorite part was developing and deepening Nora and Ger's relationship.
What prompted you to choose London as a backdrop for your story?
A friend once owned a mini Fox Terrier, a feisty little scrap of a dog, who was famous for making snap decisions about people.  She'd either snuggle on your lap or rip into your ankles with her sharp little teeth.  Once her mind was made up, there was no changing it.  My friend said that mini foxies "are good at hate" (and indeed, Nora says a similar line in the book).  I envisaged two feuding families who would not change their minds for any reason, a bit like that mini foxy. Once I had that, the families fell into place: Irish, and living outside of Ireland.  There's a huge Irish population in London, a city I've lived and worked in, so the decision was made.
What did you learn from writing this book?
Next time, I'll pick Irish names that don't have a fada in them (that little accent on a letter), such as Seán. They are such a pain to type!
Do you write to music? If yes, do you have a song that you associate with Never-Tied Nora?
No, I find music too distracting when I write.  I don't mind background clatter and chatter, or (even better) birdsong, but not music.  If I had to pick a song though, it would be something very Brit-pop, like Billy Bragg or Morrissey.
Where do you write, and what is your writing process like?
I love to write on the move.  Planes, trains, and automobiles.  Random coffee shops.  Much of Never-Tied-Nora was written on Queensland Rail between the Sunshine Coast, where I live, and Brisbane, which is a two-hour trip. I don't mind other people being around me as long as they are strangers, but I can't write when people I know are in the room.
How can your readers stay in touch with you?
You can find my website and blog at www.cheyenneblue.com, but I'm a spasmodic updater.  I'm active on Twitter @IamCheyenneBlue and I love Goodreads and am always happy for new friends there:  https://www.goodreads.com/author/show/3338016.Cheyenne_Blue .
You can also email me at Cheyenne at CheyenneBlue dot com.