There's only one way right now to read Fletcher DeLancey's and Shaylynn Rose's new eagerly anticipated sequels just released this week, and it's in our online shop. So drop everything this weekend, and go download yourself a copy of Without a Front: The Warrior's Challenge by Fletcher DeLancey and Banshee's Vengeance by Shaylynn Rose. Both books are available now in the Ylva online shop.
Want a dose of kick-ass females using their brains and their brawn to right wrongs and save loved ones? Buy these books now, and we promise you some very satisfying reading. Find out more about these books below: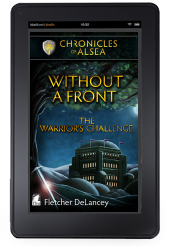 When Without a Front part 1, The Producer's Challenge came out back in October, readers were both in awe and ready to strangle author Fletcher DeLancey for ending her book with the mother of all cliffhangers. If you were one of those fans, you can finally find out Lancer Tal's fate in the exciting resolution, Without A Front: The Warrior's Challenge, available now in e-book in the Ylva online shop.
Lancer Andira Tal is back and cleaning up blast debris. She's also on the hunt for a traitor and a missing member of her family. But a carefully constructed trap awaits her, and her title, her family, and her very freedom are threatened. Not to mention, she loses her greatest support exactly when she needs it most. With no way out, she'll have to do the impossible—and the clock is ticking.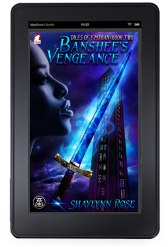 Azhani Rhu'len continues her fight to restore her stolen honor and right injustice in the rousing sequel to Banshee's Honor – Banshee's Vengeance, the second book in the Tales of Y'Myran series.
Azhani must put aside her grief at the loss of the woman she loved and her quest for justice when rimerbeasts come to her land. Can she successfully fight this ancient menace as honor demands and still prevail over the sorcerer who has taken away from her the love of her life, her home and her good name?
Buy Shaylynn Rose's Banshee's Vengeance now in the Ylva shop
Start at the beginning with the first book in the Tales of Y'Myran series, Banshee's Honor