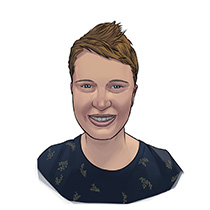 Liz is from sunny Queensland, Australia and grew up doing lots of swimming, cricket and netball. She started a degree in journalism but decided early on she didn't want to be a journalist because she heard the hours were long and the pay was bad. She couldn't think of anything else she wanted to study, however, so decided to get the degree anyway.
After that she taught English in Japan, where she joined a soccer team to meet girls. Luckily the captain was a very nice American who is now her wife.
They live quietly in Logan, Queensland, with their two daughters, plus a dog named Pancake and a cat named Carly-Rae. Liz's interests are women's Australian Rules football (especially the Brisbane Lions) and teaching herself the mandolin off YouTube.
CONNECT WITH THIS AUTHOR: