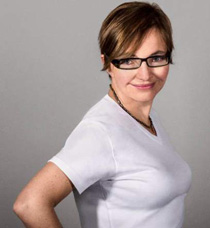 Clare Lydon penned her first novel at primary school and it scored 9.5/10. She's still not sure what she was docked half a point for. A lack of lesbians perhaps? It's not something anyone could accuse her of these days.
Clare's debut novel, London Calling, was released in February 2014 and became an Amazon No.1 best-seller overnight.  A tale of one woman's search for love in modern-day London, the book is littered with ladygays, a vat of tequila and a colourful array of Converse. Her second novel, The Long Weekend, is due out in November 2014.
Clare's a Virgo, a Spurs fan, a karaoke queen and a Curly Wurly devotee. She's also never owned a cat and runs screaming from anything DIY. She lives with her wife in London.
CONNECT WITH THIS AUTHOR: