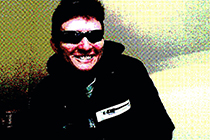 Andi Marquette is a native of New Mexico and Colorado and an award-winning mystery, science fiction, and romance writer. She also has the dubious good fortune to be an editor who spent 15 years working in publishing, a career track that sucked her in while she was completing a doctorate in history.
She is co-editor of All You Can Eat: A Buffet of Lesbian Romance and Erotica, a Lambda finalist, and Order Up: A Menu of Lesbian Romance and Erotica. Her most recent novels include the romances The Secret of Sleepy Hollow, The Bureau of Holiday Affairs, and From the Hat Down.
When she's not writing novels, novellas, and stories or co-editing anthologies, she serves as both an editor for Luna Station Quarterly, an ezine that features speculative fiction written by women and as co-admin of the popular blogsite Women and Words. When she's not doing that, well, hopefully she's managing to get a bit of sleep.
CONNECT WITH THIS AUTHOR: