A Heart to Trust by A.L. Brooks is an opposites attract, enemies-to-lovers, workplace romance in the world of TV production. And it has just been released in German, too, as Im Job und in der Liebe. In this interview, A.L. Brooks talks to us about the essential element of writing enemies becoming lovers and why the US government might ask her if she wants to apply for citizenship after writing this book.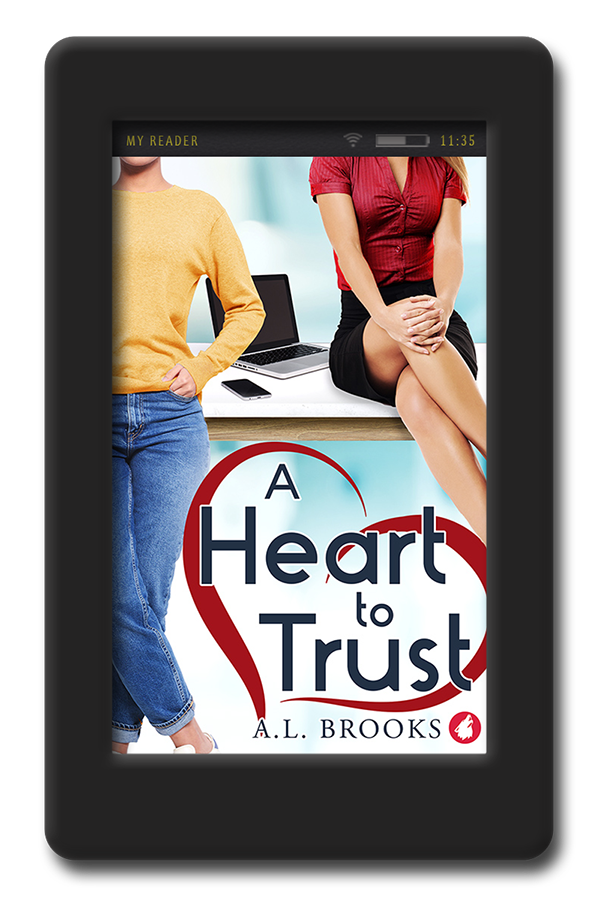 In your own words, please tell us about A Heart to Trust.
It's the story of Jenny and Olivia, who start off as workplace enemies, but discover some common ground that leads to a tentative friendship and alliance, and then something more.
Jenny was first seen in The Long Shot. She's a TV production assistant, and not so lucky in love. She loves her chosen family, and for now is content to spend her quality time with them, with romance far from her mind. But then her company is taken over, and she's transferred into a new team, where she meets Olivia, a British woman who is decidedly frosty towards her from the get-go.
Olivia harbors a secret that she's lived with for a couple of years now. She made her choice to play along with a certain deception, but it's starting to wear her down. So she's already a little stressed when she meets the very laidback, goofy, and seemingly unprofessional Jenny after the company takeover. The fact that they're pitted against each other for a future job really doesn't help either. Nor does the fact that Jenny is rather cute…
What aspect of the story is something you have never written about before?
Writing Olivia as someone who is knowingly deceiving a huge amount of people about an aspect of her and her husband's life. It was tricky to balance the reasons why she played along with the deception, and still make her a sympathetic character the readers would want to support and cheer on in her journey.
In your opinion, is there anything that's essential for making sure an opposites attract or enemies-to-lovers romance works?
For me it's making sure that although they are enemies/opposites, it's still believable that there is something that would draw them together, despite their circumstances. It's not enough that they begrudgingly find each other physically attractive. There has to be something under the gorgeous surface that draws each other in, no matter what else is going on between them. Some little chink in the armor, on both sides, that lets them each take a moment to say, "Ok, this person is more than I thought. Hm."
What scene in A Heart to Trust was the most fun to write?
That's easy to identify but hard to write about without spoilers!
But let's just say there's a scene where Olivia has a little too much to drink, and Jenny finds herself very confused about what the heck is going on. 🙂
Do you prefer writing lesbian romance novels in dual perspectives or a single perspective?
Definitely dual! I love being able to show what's happening to each character as the story progresses, getting inside the heads of both women, and showing what impact the burgeoning romance is having on their side of life.
How did your research for the different aspects of this lesbian romance novel look?
The jobs and corporations part was pretty easy. As someone who's worked in corporate life for over 30 years, I know all about office politics and dramas. So for that it was simply a case of getting some of the details right about the specific industry (TV production) and the nuances of the differences between UK and US corporate life.
I did a lot of research on some excellent queer sites explaining ace/aro identities to make sure Broderick's character was as authentic as possible.
And I delved deeply into the information provided by the US government and the State of New York on the rights of someone like Olivia, a dual-nationality citizen, to live, work, marry, and divorce there. I half expected someone from the US government to email me and ask if I was interested in applying for a Green Card because I spent so long on their websites! Haha!
A.L. Brooks was born in the UK but currently resides in Frankfurt, Germany, and over the years she has lived in places as far afield as Aberdeen and Australia. She works 9–5 in corporate financial systems and her dream is to take early retirement. Like, tomorrow, please. She loves her gym membership, and is very grateful for it as she also loves dark chocolate. She enjoys drinking good wine and craft beer, trying out new recipes to cook, and learning German. Travelling around the world and reading lots and lots (and lots) of books are also things that fight for time with her writing. Yep, she really needs that early retirement.