We were lucky enough to spend an afternoon with bestselling author, Jae, and discuss her latest  lesbian romance novel, Not the Marrying Kind. What do small towns, cupcakes and flowers have in common? Read more to find out!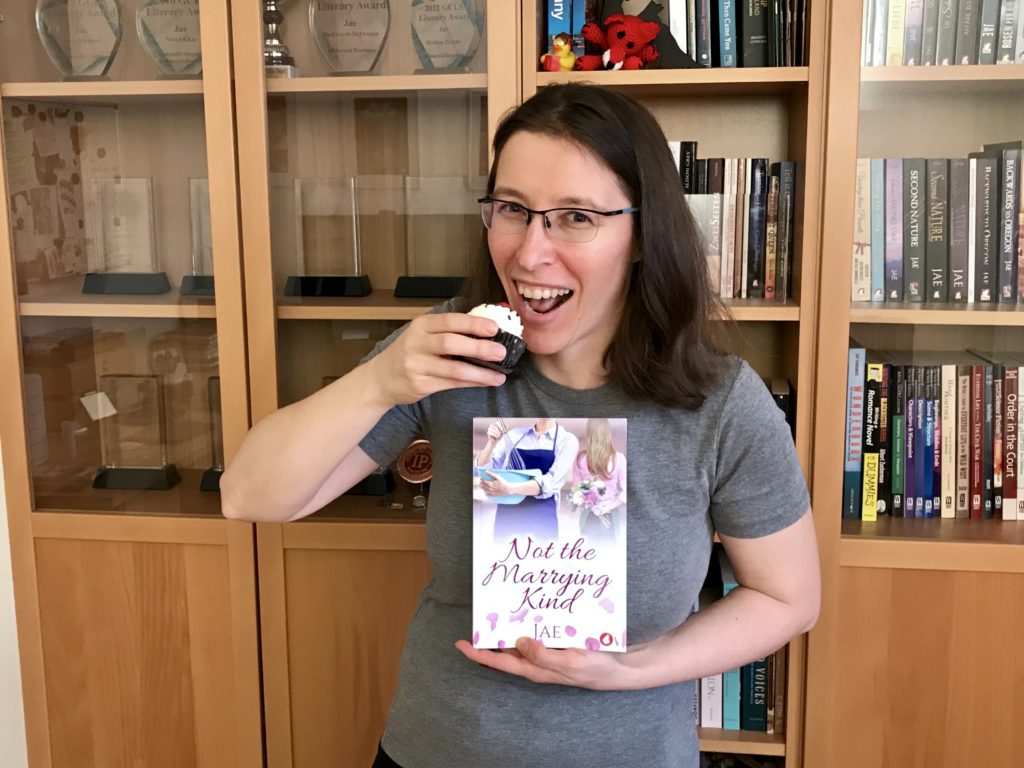 Your newest lesbian romance novel, Not the Marrying Kind, has just been released by Ylva Publishing. Can you tell us a little about it?
Not the Marrying Kind is a small-town romance set in the fictional town Fair Oaks in Missouri. Ashley, the owner of the only flower shop in town, is a lesbian, but she's scared to come out of the closet because her parents and many of her customers are pretty conservative. So Ashley decided to focus on her shop and to stay away from women. But then her friends Holly and Leo ask her to do the flowers for their wedding, and Ashley has to work with Sasha, the sexy six-foot owner of the local bakery.
Sasha is openly pansexual and couldn't care less about what people think. Despite their differences, Sasha quickly starts to tempt more than just Ashley's sweet tooth as they spend more time together.
We already met Sasha and Ashley in your award-winning queer romance novel Perfect Rhythm, and now they're getting their own book. What inspired you to get them together as a couple?
I found it fascinating to pair two women who couldn't be more different: Ashley is constantly worrying about what people might think. She's used to putting her family's needs first and ignoring her own. Sasha, however, lives her life the way she sees fit. She just never thought a relationship could be something she wants.
During the course of the book, they get to know each other in a way they never have before. They learn from each other; they grow and change for the better. Their development from slightly antagonistic to friends to lovers was a lot of fun to write.
Sasha's bakery is named A Slice of Heaven. How did you come up with that name?
I actually asked my readers and followers on Facebook and Twitter for a little help with naming the bakery. There were a lot of wonderful suggestions, so picking one was tough. I ended up going with the name fellow author Lee Winter suggested because Sasha's delicious baked goods really are like a slice of heaven.
Ashley's favorite treat are the vanilla cupcakes with strawberry buttercream frosting that Sasha sells in her bakery. Have you ever tried cupcakes, and if you did, did you like them?
Like Ashley, I do have a bit of a sweet tooth. Cupcakes aren't that easy to find in Germany, but I recently found out that there's a little bakery that even specializes in cupcakes in the city where I live, so I celebrated the publication of Not the Marrying Kind by getting one of each of the cupcakes they sell and did a cupcake tasting. It's hard to name a favorite because they were all great, but I think for me, the Oreo cupcake topped the list. The strawberry cupcake was a close second, and the Black Forest cupcake was the most creative. That one was like a perfect combination of Not the Marrying Kind and my previous lesbian romance novel Paper Love (which is set in my hometown, at the edge of the Black Forest).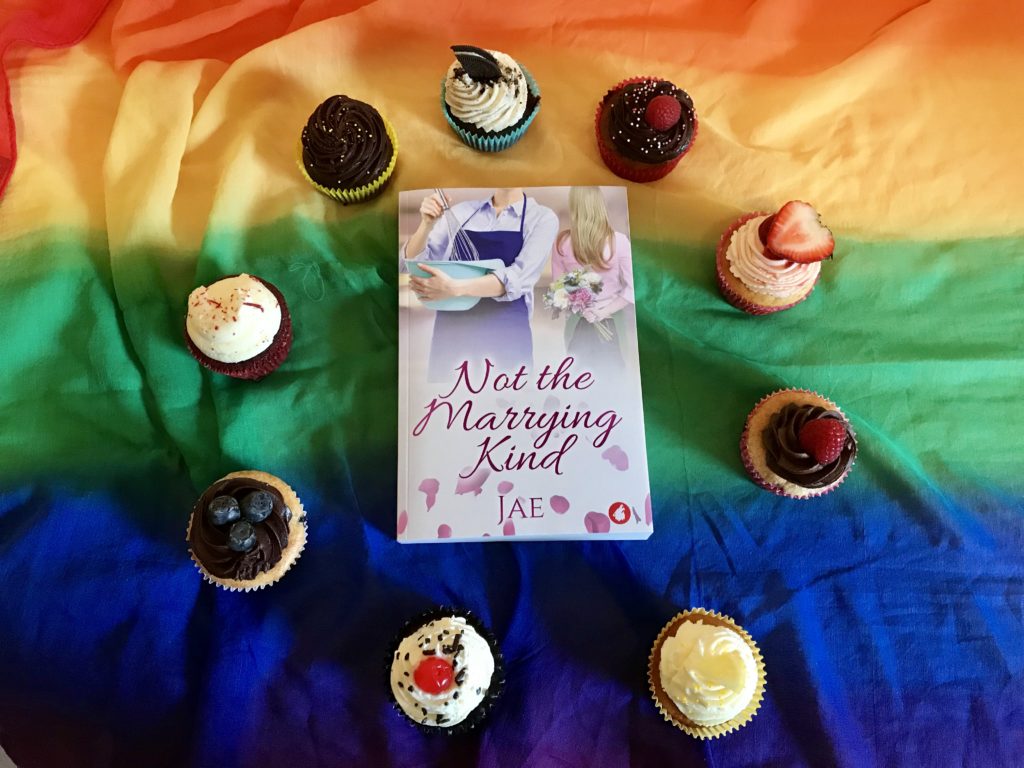 Ashley and Sasha become much closer during Leo and Holly's bachelorette weekend in Florida. Did you already know what would happen during that trip when you set out to write Not the Marrying Kind, or did you come up with those events spontaneously?
A little bit of both. Before I start writing a novel, I outline the major events and turning points of the story. So I knew that Sasha and Ashley would spend a weekend in a beach house in Florida, and I knew some of the things that would happen while they're there. I always leave enough space for the story to breathe and develop organically by not plotting out every last moment. So things like the sandcastle-building competition developed spontaneously, while what happened during their first night in Florida was planned from the beginning.
Your lesbian romance Not the Marrying Kind is set in a fictional town named Fair Oaks. Is it based on a town that actually exists, and if it is, have you ever been there?
Fair Oaks is based on a small town about forty miles from Maryville, Missouri. I haven't had a chance to visit the town, but a friend of mine lives in the area, so she provided me with pictures and descriptions, and she acted as a beta reader to make sure I get the details right. I think the story could be set in pretty much any small town. Anyone who grew up in a small town, the way I did, will probably be able to identify and empathize with Ashley.
You created two very different main characters in Not the Marrying Kind. Do you have anything in common with Sasha or Ashley?
Unfortunately, I neither have Sasha's baking skills nor Ashley's skills when it comes to creating beautiful bouquets. What I do have in common with both of them is that I grew up in a small town too. So I know what it's like to live in a place where everyone knows everyone else, rumors and gossip travel faster than the speed of light, and being different in any way is not a good thing. So I could easily put myself in Ashley's shoes and imagine why it's so hard for her to come out.
How do you usually celebrate when you finish a new book?
Since it usually takes me half a year or longer to write and revise a book, finishing a novel isn't an everyday occurrence, so I make it a habit to celebrate every time I finish and then publish a book. Most often, my friends and I usually celebrate by having dinner at my favorite Indian restaurant (the same one where Anja and Susanne celebrate Anja's birthday in Paper Love) and/or by getting ice cream. This time, I celebrated Sasha-style by getting a selection of cupcakes, though. I still haven't recovered from the sugar rush!
Jae grew up amidst the vineyards of southern Germany. She spent her childhood with her nose buried in a book, earning her the nickname "professor." The writing bug bit her at the age of eleven. Since 2006, she has been writing mostly in English.She used to work as a psychologist but gave up her day job in December 2013 to become a full-time writer and a part-time editor. As far as she's concerned, it's the best job in the world.
When she's not writing, she likes to spend her time reading, indulging her ice cream and office supply addictions, and watching way too many crime shows.
Not the Marrying Kind is available everywhere now!