A lesbian book club sounded like such fun. A small, friendly circle of book-loving women engaged in witty conversation—that's an introvert's equivalent of a New Year's Eve celebration. Throw in some wine and cheese, or coffee and cake, and you've got the perfect afternoon. Right?
It was in this optimistic mood that I started the most dysfunctional book group the world has ever known. (Details have been changed to protect the guilty.)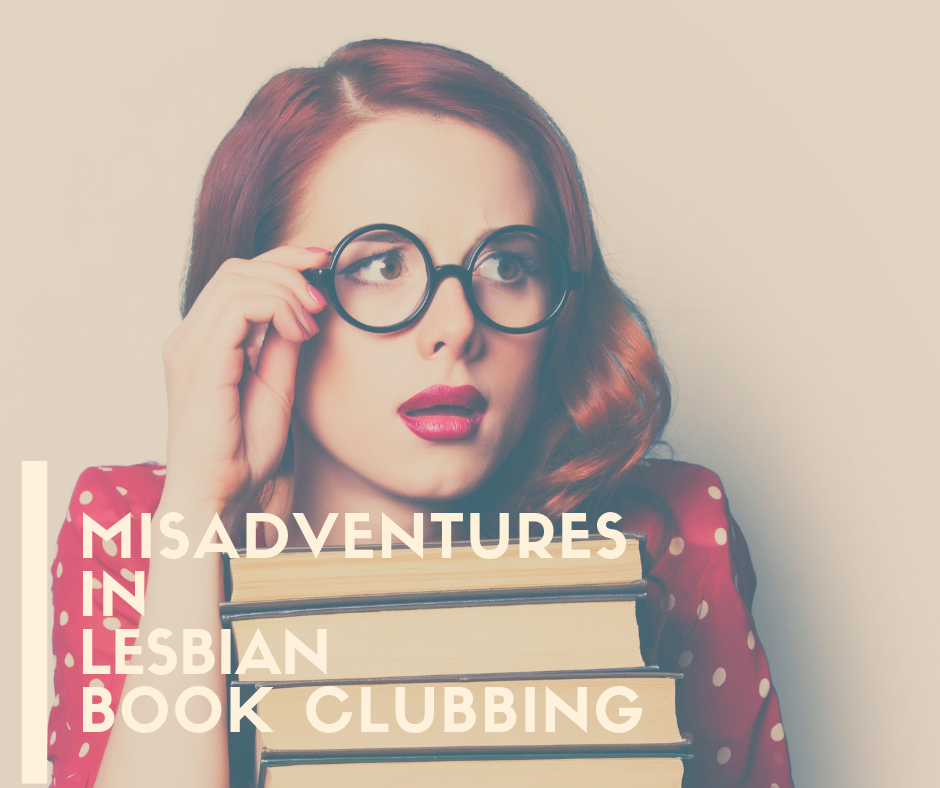 Look, I was new in town. I didn't know anyone, and it was the mid-2000s; social media barely existed. So, I did what seemed logical: I booked a regular table at a bookshop-café, and decided the members should choose books by consensus, prioritizing titles we could borrow from libraries. Then I put a poster on a LGBT community noticeboard, listing the place and time the group met, and stating in big, friendly letters "ALL WELCOME".
Anyone spot what I did wrong there? Here's what I learned…
Meet someplace where they don't hate you.
The bookshop-café owner was a nice man. But imagine his frustration at having his space taken over by a bunch of noisy cheapskates who sat on one coffee all afternoon and got their books from the library. It got worse when we asked him for a recommendation. He suggested a whimsical yet sombre novel: a postmodern tale of a bored housewife who meets a lesbian and realizes how sad life is. Our group hated the book and bitched loudly about how bored they'd been. The bookshop owner listened in for two hours, then came over and coolly explained that the author was his best friend. I'm pretty sure every coffee he served us came with a dash of saliva.
Learn to use the internet.
If you won't buy hard copy books, then you need to make friends with their cheap and cheerful e-cousins. Stick to lesbian books from everyone's local library, and you'll find it's either Sarah Waters, Jeanette Winterson (probably one of hers that doesn't have lesbians in it), or a fifteen-year-old biography of Ellen DeGeneres that someone spilled coffee over. After a year, we were desperate. "This book has a minor gay character—will that do?" "This author writes about female friendship—close enough?" It was when we found ourselves discussing a book by a heterosexual sci-fi writer about aliens who change sex at mating time that I knew we were in trouble. The next month, we read Fingersmith again.
First rule of book club: You pick it, you read it.
Obviously my plan that we would choose books by consensus never happened. We couldn't even agree which chairs to sit on. But if you select a book for the group, you'd better come prepared to lead a discussion. I'm still cross with the person who insisted we read a collection of advice columns by a sex therapist…then didn't show up. You've never seen such a cranky group of readers talking resentfully about dildoes.
Screen your book club members. For God's sake, SCREEN.
Otherwise, don't blame me if you end up discussing Fried Green Tomatoes at the Whistle
Stop Café with these people:
1. A very angry woman who hates every book the group has ever read. She copies out the "worst" passages—by hand—then makes you listen attentively while she explains what the authors did wrong. She never misses a session.
2. An eccentric woman who recites the plot of the book, like a human CliffNotes, before segueing into totally unrelated stories about her life. I didn't need that much detail about her appendectomy, especially when I thought we were discussing The Color Purple.
3. An even more eccentric woman who sits in eerie silence, never saying a word, but watching you with a fixed, intense stare. Okay, she was probably shy. But it's hard to lead a discussion about The World Unseen when you're wondering if the person beside you might, just possibly, be a serial killer.
4. So many women who never read the books. Which part of "book club" wasn't clear?
5. Several members who just loathe each other. Passionate debate is one thing, but I saw women nearly come to blows over a story about a drag king. Wasn't this meant to be fun?
6. An ACTUAL MAN who interpreted "lesbian book club" to mean "bunch of ladies who'd love to hear some stories about my grisly car accident and the time I got arrested in Bali". He was some kind of circular breather, too, so there was never a moment to cut him off. He came back a few times. I guess he was a big Sarah Waters fan.
When my first book was published, a friend said "Wow, maybe someone's book club will talk about your stories one day!"
That would be an honor and I'd be delighted…but please don't ask me to organize it!
Jess Lea lives in Melbourne, Australia, where she started out as an academic before working in the community sector. She loves vintage crime fiction, the writings of funny women, and lesbian books of all sorts. Jess can be found writing in cafes, in parks, and in her pyjamas at home when she should be at work. Her novel, A Curious Woman, will be out in April 2019.