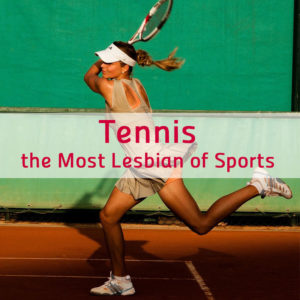 Lesbians + sport. They go together like beer and jalapeño poppers.  And, I firmly believe that tennis is the most lesbian of sports.
That rumbling noise in the background? That would be the sound of engines firing up as the aficionados of every other sport prepare to disagree with me. Soccer, softball, cricket, golf, roller derby (OMG, roller derby)… They all have a claim to the title. However, I'm here to put the case for tennis.
Out and Proud Lesbian Players
Let's start with visibility. There are a lot of lesbians in tennis. In fact, in 1981 Billie Jean King was the first professional sportswoman to come out of the closet, followed a few months later by Martina Navratilova. There was an element of outing for both of them but, once out, they stood strong in the face of condemnation, loss of sponsorship, and the criticism and climate of the times.
Then there's Amélie Mauresmo, Casey Dellacqua, Rennae Stubbs, Lisa Raymond, Gigi Fernandez, Johanna Larsson, Alison Van Uytvanck, Richel Hogenkamp … all out and proud.  There are more than that, of course there are, but that list is a sample of lesbian tennis across the decades since 1981. Who can forget Casey Dellacqua's low-key coming out? Casey had missed part of a tennis season and was asked if it was due to injury. "No," she replied. "I became a mother three weeks ago." While the press were busy sneaking covert glances at her waistline and wondering how they'd missed the baby bump, Casey went on to say that her partner had given birth to their first child.
Equality in Tennis
Tennis is one of the leading sports where the women's game shares equal prize money at major events and equal TV time with the men's game.  An Aussie pro cricketer, for example, earns maybe $150,000 a year if they're female, but a couple of million if they're male. You can thank Billie Jean King and the "Original 9" for tennis's equality of pay. In 1970, rather than accept a prize money division of 8:1 in favour of the blokes, the Original 9 broke away from the men's game to form their own tour. They risked their entire careers for what they believed in—and they succeeded.
And we all know how the LGBTQ+ community loves a fight for equality.
Women's tennis still tickles at the heels of the men's game for overall popularity, but the increase is steady, the popularity still high . The prime-time slots, the center court matches are equally divided. I took a look through my cable sports channels recently. The French Open was on and coverage of men's and women's matches were pretty equal. I then took a look at the other sports on offer: soccer, football in all of the different codes, baseball. There's women's rugby now, but you wouldn't know it from the sports channels.
Then there's darts. Is that even a sport?
Gay-friendly sports
In the 2017 Stonewall survey, 65 per cent of respondents said that tennis was the most gay-friendly sport for both players and spectators. There's less of the macho beer-drinking blokey back slaps, more of a mixed crowd.  In the late 1990s, I went to an exhibition match at Denver University between Monica Seles and Martina-the-goddess-Navratilova. There were a lot of same-sex couples there, holding hands, obviously partnered up. Even now, I think it would be hard to have that level of openness at the Six Nations Rugby.
Last but not least on Tennis
Tennis is just fabulous to watch. The athleticism, the shot making, the mind games, the incredible levels of fitness needed. I'm not going to mention the short skirts and tanned shoulders, but yeah. There is that too.
If you're more the participating kind, tennis is pretty accessible in much of the world. In my hitchhiking-around-Europe days, I had a racquet strapped to my backpack, and would often manage a game on a quiet clay court.
Right now, the pinnacle of the tennis season hits our screens. Wimbledon. The tradition-filled grass court tournament that halts the UK for the entirety of Wimbledon fortnight. Even now, in Australia, I still sit up way too long at night watching the live coverage.
The last time I went to Wimbledon was 2009. I sat high at the top of the stands of court 2 watching Amélie Mauresmo play her first-round match. Next to me was a line of older ladies from a suburban UK tennis club. They sat in a line like sparrows on a fence, passing bottles of gin and tonic to and fro. "Oh jolly good shot," they would say, and applaud with mighty aplomb.
After a particular sizzling shot, one of them turned to me and said, "Now that is why I love women's tennis!"
I totally agree.
Copyright picture above: Pixabay
Cheyenne Blue is the author of the Girl Meets Girl series, three standalone novels with interconnecting characters. Cheyenne has lived in the UK, Ireland, the US, and Switzerland, but now writes, runs, makes bread and cheese, and drinks wine by the beach in Queensland, Australia. She has just published tennis romance Code of Conduct with Ylva.