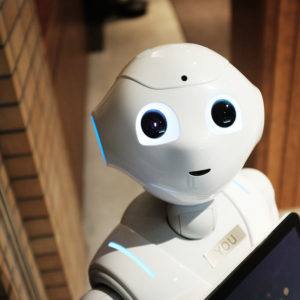 We live in an age of constant flux, and our relationship with technology is rapidly changing. Machines are no longer separate entities, that we switch off and on, but a crucial part of our daily lives.
There's this eccentric Australian guy who cut up his bus card, which has an embedded micro chip in it, inserted the chip into his hand, and now waves it under bus card scanner machines to pay. Meow-Ludo Disco Gamma Meow-Meow, aka Mr Meow-Meow, (I am not making this up) is a biohacker who loves the idea that, due to his minor surgery, no matter how often he might be forgetful or get mugged (no, seriously), he'll always be able to catch his bus home. Interestingly, the transport department called his actions a violation of the card's terms of use – as in, no tampering allowed – and tried to cancel his card. But it didn't work because they axed the wrong one. He had two. Oh well.
Handing It over to Machines
But it does make you wonder. What if all your essential banking and transportation cards could be carried on a chip small enough to be embedded inside you? It would go in the skin between your thumb and forefinger on your left hand and be the size of a grain of rice.
Would you do it?
What if you never needed cash or an ID card at work or the gym—as 3,000 Swedish employees are testing right now, as are American employees at a Wisconsin company? Before you answer, remember, you wouldn't need to fumble about for cards at grocery shops, in taxis, vending machines, and your fast food or coffee would be even faster. Even if you wouldn't do it, do you think it would catch on? Would the masses embrace it or recoil?
Risky Business
The short-term risks are pretty obvious—infection. The mid-term risks would be security hacks. The longer-term risks? Well, aren't they fun. Surveillance, for starters.
Even if a chip isn't literally tracking and uploading your movements like some micro Orwellian Fitbit, that doesn't mean your movements and lifestyle can't be figured out. The true potential danger of microchips, is data. Collate enough of it about someone and you can form a near-complete picture as to who they are.  Or, perhaps even scarier, that data might be shared between other authorities and companies. I don't mean in order to create some advertisement-saturated nightmare like in Minority Report where ads are targeted personally to you wherever you go.
When Sharing Isn't Such a Lovely Idea
I'm talking about something more sinister. Maybe your health insurer knows you hit McDonalds every day and could decide you're not worth insuring? Or your employer learns about your all-night visits to the local tavern? Or someone with an ax to grind against you works out your lethal allergy? Or secret pregnancy? Or the Government learns you've been paying membership fees for a protest group critical to it. What of that healthy single man who is buying gay books with his microchip? Maybe a health insurer with that inside information might deem him suddenly a higher risk?
Interestingly, right now that latter scenario is scaring the bejesus out of a support group for Australians living with HIV.  The Australian Government  is putting every citizen's health records into a national database at the end of 2018, unless they opt out. And the fear is that institutions, from police to health insurers, would be able to take a peek at those records without any court-ordered oversight or protections.  And yet the outcry has been almost negligible.
Why?
The thing is, for most people, no matter where they live, their lifestyle privacy and medical security isn't something they think much about. Indeed, convenience generally trumps fears of privacy violations or security issues.
Ok, Sure It's Bad but We Love Doing It Anyway
The contactless credit card technology is a case in point, despite being so easy to misuse and abuse. When you simply wave a credit card in front of machines to pay, rather than insert it, it doubles the risk of fraudulent payments. And yet talk to the people who point out the downsides of this system and some will, reluctantly, admit they use it anyway. I still recall, from years ago, the embarrassed blush of one expert on national TV as he confessed to this during a story on the dangers.
At the end of the day, humans are still humans, and time and convenience matters to us often a lot more than our fears, security issues, and any seemingly far-off futuristic, larger-than-life evils. So what does any of this have to do with lesbian fiction? My new book, Under Your Skin, includes a plot about US military veterans getting a microchip embedded under their skin that allows their medical records to be stored on a tiny RFID chip. That means no amount of government incompetence could lose their precious records. Efficiency and streamlining at its best. Win-win.
Or is it?
Convenience Takes the Prize
What I found so interesting in researching the pros and cons of embedded microchips was how many people want to try them out. How frustrating they find juggling wallets and cards and cash. Hauling all their keys, bits of plastic, and identifying IDs around mounts to the point that they crave the simplicity of such a solution.
In story after story about trial schemes of embedded chips, comments from fans of the idea noted no downsides at all. Many cannot wait for their personal biohacks and don't worry about risks in the least. These weren't some uber-nerd types contemplating it as a philosophical, technical, or academic pursuit. I'm talking regular people of all ages, genders, and backgrounds, who in response to raising these issues, pushed aside any concerns. One friend told me: "Seriously, I can't wait. Bring it!"
I am blown away by the wave of enthusiasm. It's real and it's huge. So, is this our future? Transhumanism? Will we see ourselves more and more the mix of (wo)man and machine? Small tweaks right now as we dip our toe in the water, big ones to follow?
Waiting for the Future…or Is It Here?
What's so interesting is how much the future feels so present already. Like right now, at this moment in history, we're on the cusp of something massive and technologically advanced. Obviously, fictional books like mine are nudging around these big concepts, delving into the what-ifs, the potential for use and abuse down the track, and have been for some time. But it seems like the reality is galloping up on us now at breakneck speed.
For instance, who would have thought drones would one day deliver our mail packages? Or robots could come trundling up the street with our takeout food order? Machines now interact with us every day, doing jobs people once did. How long before we live with electronics inside us, too? Not for medical reasons, but as a lifestyle choice.
What will be next? Who will we become? Will we prove once again that our love for convenience trumps our fears? And, hey, maybe that will end up a good thing? Only time will tell.
Have your say: Would you accept an embedded chip if it meant not needing to have cash or cards on you? How far would you go to merge with machines?
Copyright picture above: Unsplash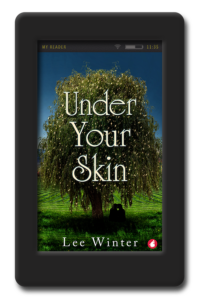 Lee Winter is an award-winning veteran newspaper journalist who has covered courts, crime, news, features and humor writing. Now a full-time author and part-time editor, Lee is also a two-time Lambda Literary Award finalist and a double Golden Crown Literary Award winner. She has just published Under Your Skin with Ylva.
---
June 2018 is Speculative Month for lovers of sci-fi, fantasy, and otherworldly lesbian fiction at Ylva!
That means bargains for readers who appreciate rippling-muscled, Lycra-suited heroes, tales from the other side – supernatural, horror, dystopian, utopian, or futuristic fiction – along with rollicking space adventures with ladies who love the ladies. Grab a bargain here: www.ylva-publishing.com/current-deals
---