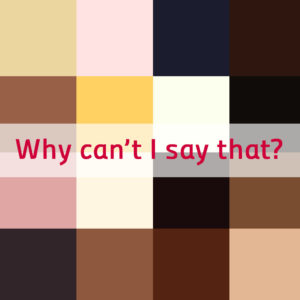 No decent, thoughtful human being wants to be accused of racism. Most decent, thoughtful human beings are guilty of racism.
Of course, it's usually unconscious, and it's often hard to keep track of evolving language and social movements, of phrases in the vernacular that were perfectly acceptable ten years ago but are now taboo (and vice-versa).
As writers, albeit pros or fanfic writers, or everyone in between, we use our words as tools, as toys, and sometimes, as weapons. It's our responsibility to listen to new conversations, to keep abreast of the ever-changing socio-political climate, and above all, to think before we ink.
Racism in writing from Nanna's day
In researching this blog, I looked up a few words that have been used in recent published works, works that have gone through a round of editors and still managed to contain words or phrases that may have been okay when your granny was around, but are now very much unacceptable. Words like exotic, ethnic, oriental, Eskimo, Gypsy. Some of these words can be used in certain contexts, many should be purged from your vocabulary entirely.
These words describe minority groups, terms given to them most often by colonialists, slave-owners, outsiders and persecutors.
Tasty for food, nasty for hues
One of the most common faux pas is to describe skin as food items. I've read so many lesbian romances where the tall, hot doctor/barista/art teacher/astronaut is described as having skin like smooth caramel/coffee/honey with creamer/chocolate icing. Not only is this a lazy description, it's plain 'ole offensive.
The reason is that these words fetishize brown skin. Imagine if we compared white skin to after-dinner mints, yoghurt, or boiled rice. It's ridiculous. In the same way, to imply that brown people are "edible" objectifies them, which is the last thing you want to do.
This is the same reason you don't want to describe Asian (and, by the way, Asia consists of people from India, Cambodia, Singapore, Japan and 44 other countries) as having slanted eyes, or being exotic. All this does is imply that white is the norm, and anything that subverts whiteness is other.
'But it used to be okay' is not a valid argument; it's an excuse for racism.
Here's the thing, language is changing. Thanks to social media, minority groups have voices and are able to talk about what feels comfortable, and how they want to be represented. No one is expected to know everything, or immediately be good at representation.
There are some wonderfully evocative ways to describe people of color without being unintentionally racist or having to sacrifice your creative integrity.
When writing about a character of colour (ESPECIALLY if you're a white author), visit sites such as:
writingwithcolor.tumblr.com
weareallmixedup.tumblr.com
thisisnotafrica.tumblr.com
thisisnotlatinx.tumblr.com
There are a ton of other resources on the internet, so explore, educate yourselves and have fun writing diversity. Goodness knows we need it! Just remember to be sensitive and thoughtful.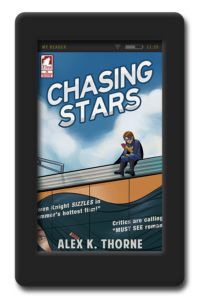 Alex K. Thorne graduated from university in Cape Town, South Africa with a healthy love of the classics and a degree in English Literature. She spent the next few years, teaching across the globe, from Serbia to South Korea, also writing fanfiction, and developing a kimchi addiction. When she's not picking away at her latest writing project, she's immersing herself in geek culture, taking too many pictures of cats, and dreaming about where next to travel. Alex just published Chasing Stars as part of Ylva's Superheroine Collection.