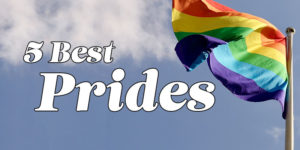 A huge part of our history and culture is the Pride events that are a celebration of queer communities and are held—usually—annually in many cities around the world. This is a huge gathering of people proud to be who they are and to love who they love. But Pride didn't start out that way.
Fighting back – our political past
Pride began as protests in New York. A stark reminder to us all of the Stonewall riot of 1969. It started as a protest against police brutality towards the queer community. Pride was born from a place of need and despair and fear.
Today, some prides are still very political—after all, we've come a long way, but there is still progress to be made. But others are more of a big colorful party with lots of booze, junk food, and plenty of other good stuff too! *wink, wink, nudge, nudge, how's yer father and all that.*
Importance of Pride now
Most of us under the LGBT+ flag have been to a Pride celebration at some point, and some of those events will hold a place of significance in our lives for some reason. That reason may have huge political ramifications, or be a milestone personally. It doesn't matter. Because one way or another, Pride is still about celebrating diversity—in all its many splendid forms. It's still about gaining acceptance and equality—not just where we live, but all around the world. It's about saying—with pride: We're here, we're queer, and we will survive.
So here's my lineup of the best Prides I've ever been to. It's a very personal list and each city is on here for a different reason, not necessarily because they're the biggest or touted as the best in Britain…though I happen to think they quite probably are!
#1 Manchester
My first ever Pride, when I was seventeen. It wasn't even called Pride then, it was Mardi Gras, and Steps were playing on the stage and Lilly Savage was the MC. A mate who I was there with knew Paul so we ended up backstage with Steps and Claire *swoon*, then drinking with Lilly in The Hollywood Show bar till the wee hours of the morning. What an introduction! I've been to many Manchester Prides and Mardi Gras since then but the first will always be the best because it was the first time I'd been a part of something like this. And, you know, Lilly Savage and Steps! Duh!
#2 Newcastle
I was a student at Manchester Uni and my best mate was studying at Newcastle Uni, so we decided to do Pride. We hit up both that year, but Newcastle took the biscuit for one very specific reason…there was much beer and vodka, rainbow flags abounded, and somewhere along the line Strip Twister was "invented". 'Nuff said.
#3 Norwich
This one's included for very, very, very different reasons. I've been to three or four Pride events in Norwich and the first was definitely my favourite. I was singing with an LGBTQ+ choir, and it was the first time I'd been to a Pride event where I felt a part of the community rather than just a party reveller. We stood in the middle of the forum, right in the heart of the city, and sang Something Inside So Strong, by Labi Siffre, and that was where I first understood the true meaning behind Pride. I was proud to be who I am, in all my facets. I was proud to be where I was, with the people who were stood beside me, and I felt on top of the world.
#4 Glasgow Pride
It took me a while to get up to Scotland and my first Glasgow Pride was only last year. I was attending as a stall holder. And what made this one of the best Prides I've ever been to was when a young girl, fourteen at most, came to the book stall with her mum, and her mum bought her lesbian YA books. And it made me realise how far everything has come in Britain. Acceptance isn't unusual now. It isn't always the norm, but she wasn't the only openly gay or lesbian I met that weekend who was there with a parent, children, or other family members. When I was sixteen and seventeen and figuring myself out, I couldn't find any books. Partly because I didn't know where to go to find them, and partly because there were so few options out there twenty years ago. Now, there are a plethora. I get another moment of pride, to be a tiny part of that.
#5 Manchester again
Okay, I'm afraid I've had to throw in a repeat here… Manchester hits the top five for the second time. For a different, terrifying reason. Totally terrifying. The first night of Pride—I think it might have 2001 or 2002—The Rocky Horror Show was also playing at one of the theatres in town. My dad is a massive fan. Massive, huge, colossal fan. He and his girlfriend went to see the show and said they'd text me after and meet up for a drink. They'd come and show their support. Yes, reader, you've guessed it. Along came Dad, complete with his '70s porn tash, dressed in full Frankenfurter regalia. Fishnet stockings, basque, a trench coat, and a thong! Oh how I wish he'd had some support. Not only am I mentally scarred—for life—but he got slipped more phone numbers on that one night than I did the whole weekend. My fragile little ego couldn't take it!  His girlfriend wasn't overly impressed either!
Now it's your turn. Share your favourite Pride event and why. Tell me what I'm missing elsewhere.
When Lambda Award Winner Andrea Bramhall isn't busy running a campsite in the Lake District, she can be found writing the stories that won't let her sleep. She can also be found reading, walking the dogs up mountains while taking a few thousand photos, scuba diving while taking a few thousand photos, swimming, kayaking, playing the saxophone, or cycling. Andrea has just published Rock and a Hard Place with Ylva.
 Copyright picture above: Pexels/lillen
---
February is the UK's LGBT History Month.
Ylva has declared February 2018 our month of firsts in romances – in celebration of the fact we never forget our first time! Get in on our sweet, sizzling romances sale by clicking here: ww.ylva-publishing.com/current-deals
---