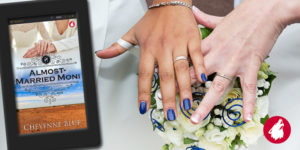 After a bruising, costly, non-binding public debate and vote, the survey on whether to allow marriage equality in Australia saw almost 62 per cent of people say "yes". An astonishing eight in ten eligible Australians voted, despite it not being compulsory. With the Australian Parliament approving same-sex marriage last week, we talked to six Ylva and Queer Pack authors, from all walks of life and all parts of Australia, to find out what this historic law means to them.
The authors are: Cheyenne Blue (Party Wall), Eden S. French (Reintegration), Conchita Fonseca (Where the Light Plays), Jess Lea (upcoming series The Taste of Her), Jane Waterton (Times of our Lives), and Lee Winter (The Brutal Truth).
Where were you when heard the result for the same-sex marriage poll vote?
Eden: I was in bed with my fiancée. Sadly, she and I weren't doing anything sexy. There's nothing that kills the mood like waiting for a statistician to waffle his way toward a public verdict on your human rights.
Cheyenne: I was at work. A dozen or so of us snuck into the boardroom, turned the sign to "occupied" and watched the result. It seemed to drag on forever … but when the number of yes voters, seven million odd, was announced, there were big grins, a few fist pumps, and high fives.
Jane: Sitting at home, watching it live at 7 a.m., tears already streaming down my face (they were either going to be tears of joy or fury), holding Pip's hand in a death grip.
Jess: In my car, listening to the results on Joy FM, Melbourne's gay and lesbian radio station.
Conchita: My partner, Jane, our two Burmese cats and I were huddled together in front of the television at home.
Lee: I set the alarm for 6.30 a.m. and was clinging to my girlfriend, watching TV. I was trying to prep my poor heart that I'd be fine in case it was a "no", but I knew that was a lie.
How did you feel when the "yes" result was announced?
Eden: Like I just watched a late-blooming toddler take their first step.
Jane: Numb, then overjoyed, more tears, and huge relief.
Jess: Relieved, firstly. It had been a bruising few months. Then as the news sunk in, I came over all reflective, thinking how much things have changed.
Conchita: Relieved – but still shaking my head that we had to spend $100 million to get here! And, that it was long overdue and about time we caught up with the rest of the world.
What does the vote mean for you, personally?
Eden: My girlfriend, Wren, is also Australian; however, she has New Zealand citizenship by descent, so technically we can already get married (and with better scenery.) Still, it's heartening to learn that my own compatriots aren't entirely against us getting married in our home country. Thanks, six in ten Australians, for not gatekeeping our love life!
Jane: It means I really have to get serious with my marketing plan on trying to convince Pip that getting married is such a good idea. Flow charts, SWOT analysis, and pie charts are being created as we speak. Seriously though, it also means that our relationship is legally equal. I don't have just a gay relationship, as someone once patronizingly told me. Now we have the choice.
Jess: When I was growing up, homosexuality was illegal in Tasmania. Other Australian states had laws requiring a much older age of consent for gay men than heterosexuals, and laws which accepted "gay panic defense" in murder cases.
As a young person, I remember the Grim Reaper AIDS commercials, and politicians and commentators calling for gay men with AIDS to be forcibly tattooed so that heterosexuals could shun them more easily. This was not just fringe commentary; plenty of "ordinary decent people" declared openly that AIDS was the punishment that gay people deserved.
As a kid, the only time I heard the word "lesbian" spoken in public was as a slur, or in relation to cases of murder or suicide. A few years later, in the early 2000s, I listened to the Prime Minister and Leader of the Opposition both condemning lesbian parents for appearing with their children on Play School, and declaring that lesbians were unfit to raise children.
I'm a reasonably youngish person and all this happened within my lifetime. So it's remarkable to see the changes that have occurred to recognize and protect our equal rights. I have so much respect for the earliest gay and lesbian activists who fought for these issues when it was incredibly dangerous to do so. And it's vital we don't take these gains for granted.
Have you been hanging out to get married? If not, do you want to get married some day?
Eden: Wren and I have been engaged since September this year. Neither of us had seriously considered marriage before we met (and, in fact, were polyamorous beforehand.) But we've found a love for each other that is complete and fulfilling, and we plan to enter into a radical lesbian marriage as a way to express our romantic vision. It'll be a chaotic, barely planned affair, completely vegan, with a sludgy bassline. We may even invite a few people.
Jane: Yes, mostly because the bastards told me I couldn't! Now I find I really want to (and not just because I have always wanted a bridal register at David Jones). I want my marriage to Pip to be shared with family, friends and have the celebration and acceptance that everyone else in the country takes for granted.
Jess: No, I'm not really the marrying kind. The thought of having to slow-dance in front of all my friends and relatives fills me with horror! But it's important to have a meaningful choice. Besides, the public debate ended up being less about marriage and more about equality in general.
Conchita: I've been fortunate to have been in a loving relationship for eighteen years. My niece is a marriage celebrant and is already planning our wedding here. It will be a day of quiet celebration with family and close friends. This will follow with a Monsoon Wedding Party which coincides with a gathering of both our families in Akaroa, New Zealand, next October, for the celebration of my significant birthday. We're a mix of Portuguese/French/Indians, Kiwis and Australians. We should be able to throw one hell of a party.
Lee: I am engaged to be engaged. My girlfriend of nineteen years has promised to pop the question in some romantic way at a time when I least suspect. Spoiler alert: I'll say yes. There will be tears.
Which way did you think the vote would go?
Eden: I assumed the "yes" campaign would triumph, but like a drunk driver who makes it home yet trashes their car, I doubted we would do it with dignity. My vibe was solidly negative throughout, and I'm not even sure I'm happy now. I wanted to see a more overt embrace of multiculturalism in our campaigning, and I especially wanted to see fiercer defense of Safe Schools. Young queers, who can't even vote let alone get married, have had their gender identities and sexual orientations repeatedly degraded and dismissed.
Cheyenne: I was confident that a majority of Australian voters were in favor, but in the past year, we've seen some bizarre and unexpected results and a surge in right-wing politics around the world. I was quite nervous about the result. I'm so delighted I was wrong.
Jane: I really wanted to believe that the messages I was seeing around me from my straight friends (and strangers), were indicative of the larger population. There were also days when I felt totally hopeless and so incredibly angry that we had been put through this experience to achieve a basic human right. Even on my most optimistic days, however, I didn't expect it to be the margin as large as it was.
Jess: The polls mostly predicted a "yes" victory, but I didn't like to get too confident. There were all sorts of dire predictions: that pranksters would spoil their own votes by putting glitter in the envelopes, and that young people wouldn't know how to use a post box!
Lee: I was half convinced that a Griffith University research team, which had predicted the Trump and Brexit results by counting Tweets, might be right and the "No" vote might get up. I swung between hope and fear.
Do you think you'll even encompass an Aussie wedding in your fiction down the track?
Eden: Only as the first phase of a demon-summoning blood sacrifice.
Jane: I may have been the first Aussie author to have already done it! I worked on the premise of, "if I write it, can it help to make it happen". I even had a Chinese-Australian lesbian politician make a brief appearance in the story! I also based my book in a lesbian retirement home, so I am waiting for that to happen in reality as well.
Lee: Oh hell no. Just finished penning my first (Iowan) wedding in Under Your Skin and I am now too scarred by the complexity of so many characters in one scene and cliché avoidance to write another anytime soon. Or at all.
Cheyenne: Two weeks before the postal survey concluded, I had the crazy idea of writing a story to celebrate marriage equality in Australia. Almost-Married Moni (see below) features a wedding in outback Queensland. Of course, things don't go to plan, but a perfect wedding is no fun!
(Copyright picture above: Dreamstime/Sylvain Robin)
---
In celebration of Australia's same-sex marriage law, Cheyenne Blue has put out Almost-Married Moni, part of her Girl Meets Girl universe, which can also be read as a standalone short story. It has all the fun of an outback Queensland wedding lurching off the rails as chaos ensues. You can download the e-book here. It is free until Sunday night, December 10th, 23:59:59pm EST.
---