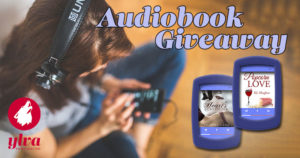 Ylva is dipping its toes (or should that be ears?) into the growing market of audiobooks. We love the idea you can kick back at home, or on the train, or while driving to work and be served up some sumptuous, well-written, lesbian fiction "eargasms". Audiobooks have one big advantage over other formats because they can be enjoyed with friends or lovers simultaneously. And you never have to worry about your eyes turning into sandpaper. Yep, audiobooks are the final front-ear. (Sorry…)
Comment on this post to win
To celebrate Ylva's exciting leap into lesbian fiction audiobooks, we're doing a giveaway for audiobooks of the lesbian fiction romance Popcorn Love by KL Hughes and lesbian erotic romance, Heart Surrender by Emma Weimann.
To enter, just leave a comment on this blog, answering this question:
Which Ylva book would you most love to see available as an audiobook? Also tell us whether you'd prefer to win Audible coupons from the .com or .co.uk site. 
We have five coupons from both sites available for Popcorn Love. Heart's Surrender just has five coupons at .com. Deadline is Tuesday, December 5th, 6am CET.