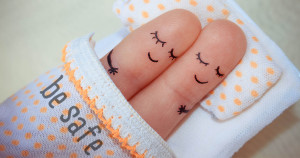 As an avid reader of lesbian romances, I must have read thousands of sex scenes over the years. There's a lot of variety—from fade-to-black to explicit descriptions, from vanilla to kinky, from sweet and tender to passionate and raunchy.
But one thing is almost always the same in lesbian love scenes and erotica: depictions of safer sex are almost invariably absent. The characters never seem to worry about contracting sexually transmitted infections such as HIV/AIDS, chlamydia, gonorrhea, or herpes, even when they're having a one-night stand with a stranger or fall in love—or lust—with a former player.
Why do you think that is—and is it something we should consider changing? Do authors of lesbian romance and erotica have a responsibility to incorporate safe sex into their stories?
This is a hotly debated issue, not just in lesfic.
Shattering the fantasy
For many readers, fiction provides an escape from their everyday worries. Erotica is a place where we can enjoy our wildest fantasies, and the introduction of safer sex would interrupt that fantasy by reminding us of real-life concerns such as diseases. For the same reason, characters in romances and erotica are almost always supermodel thin, attractive, perfectly healthy, and under 40. No one ever has wrinkles or morning breath.
Some people argue that these stories are meant to entertain, not educate, so they shouldn't be turned into public-service announcements or safe-sex manuals. Authors should trust their readers to get that safe sex should be a consideration in real life, even if it's not portrayed that way in fiction.
For other readers, however, the absence of safer sex doesn't enhance the fantasy but ruins it. Instead of enjoying the story, they start thinking about how foolish the characters are being. They lose respect for characters who put themselves and their partners at risk by having unprotected sex. These readers think it's important that fiction reflect reality and that authors should include safer-sex elements into their stories to make sure readers know how important they are.
Romance vs risk – where erotica mirrors real life
In heterosexual and m/m contemporary romance, the second group of readers seems to be prevalent. Most love scenes in these genres portray safer sex. In lesbian fiction, however, there are hardly any dental dams, latex gloves, or condoms being used on sex toys. The reason for this relative absence of safer sex in lesbian fiction might be that safer sex doesn't seem to be a huge concern for women who sleep with women. Lesbian sex appears to be lower risk, so many women don't practice safer sex and don't expect it in their fiction either.
My opinion is somewhere in the middle between these two groups. I don't think I have a moral obligation to educate as a fiction author, and I certainly don't want to write or read public-service announcements that interrupt the flow of a story. But just because romance and erotica stories are meant for entertainment doesn't mean they can't educate—and do it in a way that is entertaining and true to the characters.
Players, past history, and safer sex
That's my personal guiding principle. When I'm writing about an established, monogamous couple, I assume they have both been tested for STIs and don't include safer sex. In my last novel, however, one of the main characters is a player whose mission in life seems to be to seduce as many women as she can. When she falls in love and, finally, into bed with the other main character, I made sure to have them talk about their sexual history, safer sex, and their latest STI tests.
Have you read any stories that included safer-sex practices? If you have, did you like it or find it distracting? Do you think writers have a responsibility to portray sex in a certain way? I'd love to hear what you think.
Jae used to work as a psychologist but gave up her day job in 2013 to become a full-time writer and a part-time editor. For the past ten years she has been writing mostly in English. Jae has just published Falling Hard with Ylva.
(Copyright picture above: depositphotos/Mukhina1)
---
June's our steamiest of months and we're selling all our erotica and otherwise sexy sizzling books for a discount! Check out our women loving women in the sexiest of ways.
---