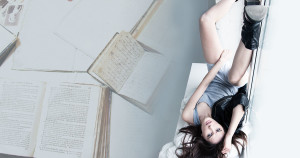 I sat down to write this blog and, for background, took a quick look at the Top Twenty Lesbian Erotica titles on Amazon that day. I'm not a prude (not by a long shot!) but even I was unpleasantly stunned by what was on display. The covers were lurid, to say the least, and three of them had men in the picture.
Er, excuse me, how is that lesbian?! Looking closer at the blurbs for each of the other seventeen, I discovered that nine of them are not even exclusively f/f, all featuring stories with men, either in m/m or m/f couplings.
You call that lesfic?
So out of twenty "lesbian" erotica books, only eight are actually f/f. And that's just in the top twenty. Is it any wonder I see so many posts on social media bemoaning the lack of quality and choice in the lesbian erotica genre?
It also helps to explain, I think, some of the posts I see by women who say they will never read erotica—some have made it very clear they won't read it "because it always features men or is written by them". Judging by that Amazon list, they're not far wrong.
Call me naive, but when I sat down to write an erotic novel, none of this occurred to me. I identify as lesbian, and I wanted to write a sexy book about and for lesbians and bisexual women that would be hot, yes, but would shy away from the "wham bam, thank you ma'am" straight erotica I'd read before my own personal enlightenment.
Straight kisses and diversity misses
When I went looking for hot lesbian stuff to read, to inspire, and to compare, I had my eyes opened, and not in a good way. Lots of it is written by men. Lots of it is lacking in plot. Lots of it is regurgitating the same old storyline (generally two, actually—"straight" girl seduced by experienced lesbian, or timid/new submissive being initiated by long-time dominant). And, usually, they're the butch-femme dynamic too.
Now, obviously, there are exceptions, and some very good ones too. But it staggered me how hard I had to look, and how much dross I had to sift through, to get to the gems. I'm talking about the "proper" lesbian erotica that's written by women, for women, and with our needs and desires in mind. The books or stories that have variety, and imagination, and humour. The ones that show true diversity of not only the sexual scenarios themselves, but the sexual identity and colour of the participants, and their needs and desires.
This lack of choice and diversity gives the genre a bad name and that saddens me. Lots of women in f/f relationships are sexual in those relationships. Lots of them enjoy a good, sexy love scene in a lesbian romance. Lots of them, judging by the comments on social media and in reviews, would like to see more sexy stuff that talks directly to them.
I'm not sure where this lack of diversity comes from. Is it publishers wanting to stay with what's tried and tested, because it sells?
What makes racy gems so rare?
Is it writers, looking at the market, working out that's what sells and so they are perpetuating the same old thing?
Is it the reputation of the genre working against itself, because it's flooded with male-written stories, or stories aimed at the male market?
It's almost as if it's in a Catch-22 situation, repeating a cycle that doesn't offer what lesbians or bi women want at all. I can't believe the women who currently publish lesbian erotica are all white, all into the butch-femme dynamic, and all into sub-dom stories. Certainly the audience isn't.
There are plenty of other voices to be heard in this genre, and it's a real shame they're not getting airtime.
I'm really looking forward to hosting a panel on this very subject at Lesvos Lesfic and I can't wait to hear the participants' views on a subject that's very close to my heart.
A.L. Brooks currently resides in London, although over the years she has lived in places as far afield as Aberdeen and Australia. She has just published her second book Dark Horse with Ylva. At Lesvos Lesfic 2017 on June 9, A.L. Brooks will be doing a panel, Diversity in Lesbian Erotic Novels. See www.lesvoslesfic.com for more information. 
---
June's our steamiest of months and we're selling all our erotica and otherwise sexy sizzling books for a discount! Check out our women loving women in the sexiest of ways.
---