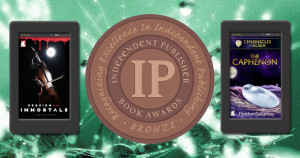 Ylva Publishing is doing a happy jig today after two more of its books won prizes in the mainstream 2017 Independent Publisher Book Awards.
The Caphenon (Chronicles of Alsea Book 1) by Fletcher DeLancey tied for a bronze medal in Best Sci-Fi/Fantasy/Horror E-book.
And Lee Winter won a bronze medal for Requiem For Immortals in Best Mystery/Thriller E-book.
This brings the Ylva IPPY medal haul to four after it was earlier announced we had a gold win in Erotica for Don't Be Shy, edited by Astrid Ohletz and Jae, and a bronze win for young adult novel Here's the Thing by Emily O'Beirne for Australia/New Zealand regional fiction.
The IPPYs celebrate mainstream books that are "progressive and thought-provoking".
For the full list of the latest winners, check out independentpublisher.com.