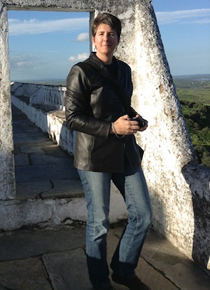 Fletcher DeLancey spent her early career as a science educator, which was the perfect combination of her two great loves: language and science. These days she combines them while writing science fiction.
She is an Oregon expatriate who left her beloved state when she met a Portuguese woman and had to choose between home and heart. She chose heart. Now she lives with her wife and son in the beautiful sunny Algarve, where she writes full-time, teaches Pilates, tries to learn the local birds and plants, and samples every regional Portuguese dish she can get her hands on. (There are many. It's going to take a while.)
She is best known for her geeky romance Mac vs. PC and her science fiction series, Chronicles of Alsea.
CONNECT WITH THIS AUTHOR: