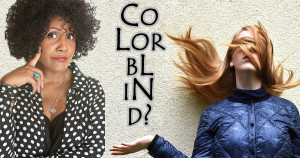 I'm not about to go into the science-y definition of the term color blind. No, I'm about to get sociological on your ass. See? Fun.
Color blind is a term used by people who say they don't see color and are accepting of everyone. It sounds like the antidote to racism doesn't it? If it were a physical thing maybe we could alter its properties into a gas or spray of some kind; put it on the back of one of those crop dusters and spread it all over the world.
Things would be perfect then.
However, the reality of the situation is that things will never be perfect. There will be some who rise above and see a person as just a person. There will also be some who want to stay and wallow in the gutter because they were taught it was the best place to be, mired by their own hate.
History teaches us that during the days of African slavery, African men were beaten, hanged, and suffered all number of atrocities for the crime of looking at, touching, or talking to a white woman. This didn't stop after slavery was abolished. In fact, there were many who were against the races mixing through the years of Jim Crow, which enshrined racial segregation into law.
Guess what? That mindset it still around today and it's not just the white community. I've seen it in the black community and heard about it in a myriad of others. This is an issue that has crept into our institutions, especially in entertainment like television and books. It's still considered brave to depict such a thing as an interracial relationships. Heaven forbid that real life seeps into what we watch and read.
A Different Point of View
Now, let's flip the script a little. Close your eyes and imagine two women of different races instead.
Yeah… whoa.
All that on someone's shoulders plus the extra weight of homophobia. Sounds extremely heavy to deal with the hate, the stares, the whispers, and the ignorance from several different angles and fronts, even from individuals in your own culture.
It is. It's draining. Unfortunately, it takes time to learn to turn the other cheek and there are situations when that's just not possible. Not going to lie—those times feel extra damn good. Retaliation can be so sweet.
I'm sure there are thousands of stories out there about the societal difficulties inherent in interracial relationships, but I can only tell you one, my own. It's a love story. We all dig those.
It's a Love Story
Almost twelve years ago, I met this amazing woman and fell ass over tea kettle for her. She opened up my world. She took me places I never even thought about going, like wine and cheese bars and French restaurants. I liked it! I'm a beer drinker and for a long time, cheese went on burgers or was melted with Rotel, spicy mix of tomatoes and peppers, to go on chips. Thankfully, I know better now.
She's white, but I didn't care. Yes, it was my first real relationship with someone from a different race, but for me, it didn't even factor in. Even though she was, I didn't see her as a white woman. She was just smart, snarky, pretty, and sexy, with a great smile. I suppose it was color blindness in a way which left me a little unprepared to deal with other people's responses.
We got those blatant stares. We were subject to those whispers.
It was uncomfortable on some days and I tried to make jokes to deflect. I mean, I'm black and butch. I should be used to the staring and the whispers, right? Yeah…no. There were times when I could ignore it and brush it all away, and there were times when it pissed me, us, off to no end.
Where are we now with it?
Well, we live our lives. We refuse to be disrupted. Let them stare and whisper. It's their food that's getting cold. Those are their drinks that are getting watered down, and it's a damn shame to let good cheese go to waste.
You know what would be nice though? If that ignorance was counterbalanced by education. Let's stop calling it brave to put interracial couples, lesbian, gay, bi, trans, and other diverse groups of people deemed different from the norm on television and in books. Let's just do it instead.
We laugh. We cry. We drink wine and eat cheese. We also love, just like everybody else.
 K.D. Williamson is a Southerner and a former nomad, who has taken up residence in the Mid-West, east coast, and New Orleans over the years. She enjoys all things geek, and is a veteran in the mental health field, working with children and their families. K.D. lives with her partner of ten years as well as the strangest dogs and cats in existence. She has just published Between the Lines with Ylva.
(Copyright left picture above: depositphotos.com/creatista)