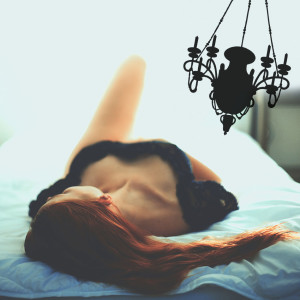 Lesbian romance novels cover a multitude of scenarios, themes, time periods, and galaxies, and the breadth of lesbian fiction widens every day. This is all fantastic news for our genre, and I love the variety of books now available to me as a reader of lesbian fiction. But something occurred to me the other day: for all this variety in context, where is the sexual variety in lesbian romances?
It's been my experience that, for the most part, love scenes in lesbian romances follow a very tried and tested formula. The women will be lying down, usually on a bed. There will be kissing, obviously, because we all love that. Then there will be caressing with hands, and possibly penetration with fingers. There may also be some oral sex, with one of the characters going down on the other before they—sometimes—reciprocate. The language used is almost chaste, with no direct mention of body parts other than breasts, nipples and the occasional clit.
Don't get me wrong, if they are written well they can be sexy as hell, without the need to use particular words or phrases that would be more likely to be found in an erotic story. But, it seems to me, in making a clear distinction between romance and erotic romance, a lot of the joy of lesbian sex has been lost in the former. I'm talking about the sheer variety of lesbian sex that two women can share, both in actions and positions. Let's face it, the list is pretty much endless, so why aren't those being brought into stories of lesbian romance? Why don't the women in these stories use the sixty-nine position? Indulge in watching each other masturbate? Flip things round and not automatically go for a face-to-face experience, but instead one partner takes the other from behind? Hands and knees position? Sitting up? Standing against a wall or door? What about bringing toys and some light bondage to the experience?
Somehow, in the classification 'lesbian romance', the sex has come to mean vanilla, and whilst vanilla is always yum (oh yes…), there are so many other sexy things we can share, and in a very romantic way. Many readers of lesbian fiction want sex scenes in the books they read, so I wonder how satisfied they are when so many of them are following such a similar and fairly predictable pattern? Notice I don't use the word boring – the scenes are never boring, no matter how similar they are. Each book is a story about two women who we, as readers, more than likely connect with and want to see find love together. So when they do reach the intimate stage, we're already caught up in their story enough to be delighted with whatever sex they have. I would just like to see that sex be more varied and challenging to my imagination (and libido).
Given how much two women who are embarking on a relationship do like to explore each other in the bedroom (or any other room, location, venue—again, that list itself is endless!), I feel the market could benefit from something a little more realistic, a little more spiced up. It doesn't have to be crude, or use language that people would find offensive. It can still be written in an oblique way, to keep the romantic feel of the scene and the novel itself.
As an example, Gerri Hill wrote an excellent sixty-nine scene in 'Midnight Moon'. Nothing graphic in her choice of language to describe the scene, because she is first and foremost a romance novelist, but oh boy was it sexy. And romantic – Peyton felt totally trusting of Logan in the scene, and the care Logan took to make her feel comfortable was incredibly sweet. Similarly, in 'All The Little Moments', G Benson wrote a deliciously sexy and romantic scene that involved Anna and Lane doing it standing up against a door. It's a quickie, no time to remove clothes, but it, too, is written in a non-graphic way that draws out the intensity of them already being so into each other at this point in their relationship, as well as the physical pleasure they are sharing.
It can be done, and it can be done very well, and, personally speaking, I'd like to see more of it.
A.L. Brooks currently resides in London, although over the years she has lived in places as far afield as Aberdeen and Australia. She has just published her debut book "The Club" with Ylva. If you are near London this week you can visit her book launch this Friday.