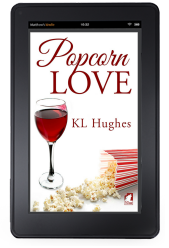 Popcorn love, that is.
Exciting news: KL Hughes's highly successful lesbian fiction romance Popcorn Love, which Ylva published this past September, will soon be available in the language of love – French!
This marks the beginning of an exciting new connection between Ylva Publishing and the premier independent French lesbian fiction publisher Reines De Coeur, which will release a French-language version of Popcorn Love in e-book and paperback format in late autumn 2016.
We already translate many of our titles into German, but this is the first time one of our books will be available in French. We are so pleased to be working with Reines De Coeur and to see one of our English-language titles published in yet another language.