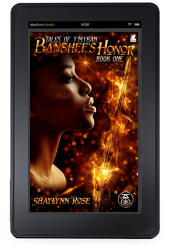 High fantasy, lush worldbuilding, badass heroines. Three things you need to know about Banshee's Honor, the first book in the Tales of Y'Myran series.
The fourth thing to know? We're putting this gem on sale today for such a low price, you have no excuse not to get hooked. Today only, you can own Banshee's Honor, the first book in the Tales of Y'Myran series, for just $2.99, available all day today exclusively on the Ylva website. 
Here's a little more about Banshee's Honor:
Once the kingdom of Y'Dan's proudest, most revered warrior, Azhani Rhu'len is now a woman shunned by her people, all due to the trickery of a sorcerer and his vendetta against Azhani's family. Now the only thing left in Azhani's life is to escape. Until she meets Kyrian Stardancer, a healer and priestess thrown against her will into the path of the infamous pariah. When the two women are stuck together for the winter season, they must learn to work together to forge new lives and face harsh new realities.
Will Kyrian stay once the winter is over? Will Azhanhi pursue the justice she so rightly deserves and reconcile with her people? And when the stirrings of an ancient evil resurface, will Azhani and Kyrian use their newfound partnership to fight this terrifying menace?
Buy Banshee's Honor by Shaylynn Rose today for just $2.99, and let this expansive series ensnare you in its fascinating world.