Ready or not, the holiday shopping season is definitely here, and the clock is ticking.
How much gift shopping do you have left to do?
Our selection of holiday-themed reads is bound to please everyone on your list, including you. Have a look before it's too late, and get the last of your holiday shopping done without ever leaving the house.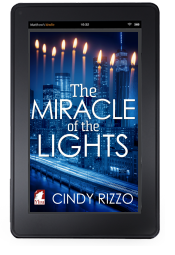 THE MIRACLE OF THE LIGHTS by Cindy Rizzo
Tonight's the last night of Hanukkah. Need a last-minute gift? You can't go wrong with this beautiful short story of devotion and strength between two teen girls who defy their parents' wishes and run away from their insular Hasidic community when they can't be together.
When Tova flees in the night to avoid an impending arranged marriage, her girlfriend-in-secret Chava runs away after her, sure she can find her missing love among the homeless LGBTQ youth of New York City. Once on the streets herself, she must confront illness, danger, and the ever-present cold. But nothing matters but finding Tova, even if it will take a miracle. Buy "The Miracle of the Lights" by Cindy Rizzo now for only 99 cents!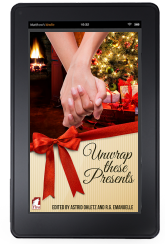 UNWRAP THESE PRESENTS by Astrid Ohletz & R.G. Emanuelle
Or you could read Tova and Chava's story in the book where it originally appeared – last year's holiday anthology – Unwrap These Presents, which we're selling right now for the low price of $7.99. Twenty-three authors of lesbian fiction – including some our biggest sellers and some strong newcomers who went on to write some great titles for us in 2015 – contributed to this collection of holiday-themed stories whose profits went to two deserving charities for LGBT homeless youth.
A great Christmas gift idea? One of thoese e-readers that are on deep discount this month, with this lesbian fiction anthology as the first item in its library. Get Unwrap These Presents now for only $7.99.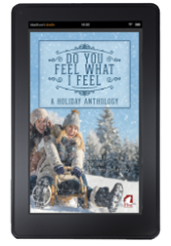 DO YOU FEEL WHAT I FEEL: A HOLIDAY ANTHOLOGY by Jae & Fletcher DeLancey
There's also this year's holiday anthology, Do You Feel What I Feel, a heartwarming collection of short stories that continued our tradition of donating profits to people in need. This year's collection went again to two charities: one for homeless LGBT youth and one that's helping Middle Eastern refugees arriving in Europe.
Two female demons keeping an unwitting humanity safe from their dark brethren discover at a holiday fair that the love they've been hiding has a human name and an accepting human community. A tattoo artist hides an origami angel in her lover's desk. A seventy-year-old woman hesitates to accompany her partner to a family celebration on the first night of Hanukkah. Buy Do You Feel What I Feel now and be swept away.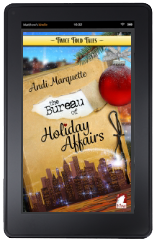 THE BUREAU OF HOLIDAY AFFAIRS by Andi Marquette
You've never heard the Ebeneezer Scrooge story told this way. A snarky, funny lesbian retelling of the Charles Dickens classic, The Bureau of Holiday Affairs is a recent release that not only reinvents A Christmas Carol's Scrooge into lesbian businesswoman Robin Preston, but also reinvents the ghosts of Scrooge's Christmases past, present, and future into the enigmatic agents of the Bureau of Holiday Affairs.
The Bureau's team arrives at Frost Enterprises in the final days before Christmas to save Robin, a ruthless executive  known among her employees for having a heart a few sizes too small. Successful at her life of ruthless corporate ladder climbing, Robin's dubious about these weirdos who keep showing up in her life. But Agent Elizabeth Tolson has a perfect salvage record that she's not about to let Robin mess it up. Can Tolson and her team re-teach Robin the meaning of true happiness and reunite Robin with a long-lost love, or is Robin too set in her ways for even this crack team to succeed? Laugh out loud with The Bureau of Holiday Affairs by Andi Marquette, on sale now in our online shop.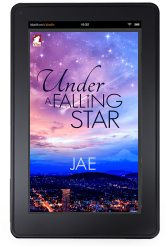 UNDER A FALLING STAR by Jae
Falling stars are a lucky omen, right? Not for poor Austen in Jae's 2014 holiday novel, Under a Falling Star. Austen's first assignment at her new job as a secretary in an international games company is to decorate the company Christmas tree. Easy-peasy? Well, not so much, as it turns out, when another employee has to be taken to the ER after the star atop Austen's tree falls right atop her head!
Dee is sure her instant attraction to Austen has more to do with her head wound than the magic of Austen's falling star. She's determined not to act on her feelings, especially since Austen still has no idea that Dee is practically her boss.
A sweet, funny holiday-themed romance that's a perfect read with a mug of hot coccoa. Buy Jae's Under A Falling Star now, and make someone in your life (or maybe yourself) smile from ear to ear.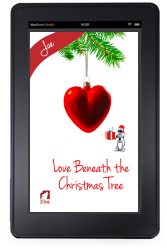 LOVE BENEATH THE CHRISTMAS TREE by Jae
What a deal! For just 99 cents more, add this heartwarming mini-collection of three short stories with a shared universe and shared characters – Rachel Lewis, self-confessed Christmas Grump,  and Lillian Coleman, the woman who makes her believe in the magic of Christmas again. Follow these two women from the beginning of their relationship, when Rachel is working as a security guard at a mall and meets Lillian and her son Tyler, to years later, when they are an established couple and same-sex marriages start to be legalized in the U.S. Full of humor, romance, and hope, Love Beneath the Christmas Tree by Jae is only 99 cents in our online shop.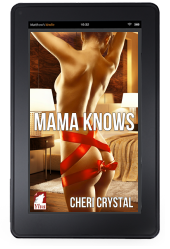 MAMA KNOWS by Cheri Crystal
Or maybe you like your holiday stories a little more steamy? Well, even frantic holiday shoppers will have time for this short story by Cheri Crystal, whose Across the Pond just came out last week. At just 99 cents, "Mama Knows" is a great way to get introduced to this Goldie Award-winning author.
At thirty-five, Rue is more than happy with her life as a farmhand, living at home so she can take care of her aging mother.  She gets more action with the ladies than her cowboy coworkers, so why would she want the complications of a long-term relationship?
But then her mother buys her a Christmas trip on a chartered singles' tour in Europe, where Rue meets feisty Billie. After a sexy encounter with Billie on the ferry to France, Rue begins to wonder if maybe Mama really knows best. Take home "Mama Knows" by Cheri Crystal for only 99 cents in our online shop.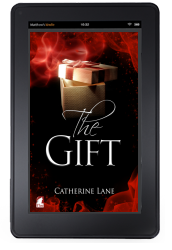 THE GIFT by Catherine Lane
An atypical Christmas story, this short story calls to mind the British tradition of mixing a bit of the paranormal into a Christmas tale, Dickens's A Christmas Carol being the most famous example.
After waking on Christmas morning from a strange and disturbing dream, Paige finds a mysterious gift for her wife under the tree. The card says it's from Paige, but she's sure she didn't put it there; but then, who did? Even more curious—strange noises are coming from other rooms in the house, and eventually Paige begins to doubt her sense of reality. Opening this gift changes everything in this lesbian romance. Buy a suspenseful Christmas thriller, "The Gift" now for just 99 cents in our online shop.
AND FINALLY: OUR GIFT TO YOU – SOME FREEBIES:
Since it's the holiday, we can't resist pointing out some FREE short  stories to be found in our website's shop: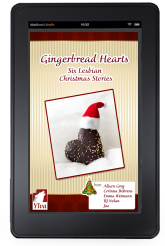 GINGERBREAD HEARTS: SIX LESBIAN CHRISTMAS STORIES
This is like an anthology by a supergroup. You won't believe it's for free. Featuring bestselling authors like RJ Nolan, Jae, and Emma Weimann, this mini-anthology has six lesbian fiction stories specifically about Christmas.
Susanne decides to come out to her family on Christmas Eve, but it's harder than she thought. A traditional Danish holiday pudding is Ida's way to new possibilities in the upcoming year. Download Gingerbread Hearts now for free only in the Ylva online shop.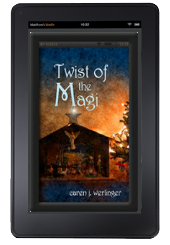 TWIST OF THE MAGI by Caren J. Werlinger
If you're a fan of Caren Werlinger's novels like Cast Me Gently and Turning for Home, you will want to take advantage of this free Christmas fable by Caren, published last year.
Penny Havers is not finding a lot to love about Christmas this year – she won't see her family, she has no girlfriend, and she can't get anyone to publish her stories. Then her fortunes seem to change when two young women start at the shop where she works. But Penny learns that the funny thing about Christmas is, there are no rules, and you don't always get exactly what you wish for. Download "Twist of the Magi" now for free only in the Ylva online shop.