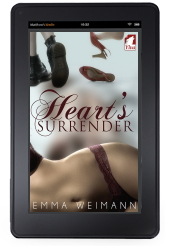 Stop by the Ylva website this Sunday for a red-hot deal on a red-hot romance: All day this Sunday Nov. 6, we're selling Heart's Surrender by Emma Weimann – an Amazon lesbian romance bestseller and a Golden Crown Literary Award winner – for a special price of just $2.99.
If you're late to the party, come see what the fuss about this sizzling hot erotic romance was about.
About Heart's Surrender:
It was supposed to be a no-strings-attached sexual encounter. Yet, neither Samantha Freedman nor Gillian Jennings seem to be able to stay away from each other, and a one-night-stand quickly becomes a no-strings-attached affair. Soon, simple attraction turns into something more, and hot erotic nights are no longer enough.
What happens when the lives of a handywoman and a pampered housewife collide? Will they each go their separate ways, or will their hearts surrender to a romance that's here to stay?