Our four new releases in this first week of December boast something for nearly everyone – literary fiction, romance, urban fantasy, and young adult. They're now available for download exclusively in the Ylva online shop. Check them out now!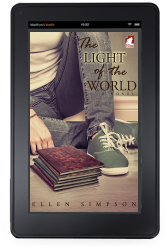 Ellen Simpson may be a debut novelist, but she is hardly inexperienced: she also happens to be the co-creator of the cheeky paranormal series Carmilla, which has had more than a million hits on YouTube and whose high percentage of lesbian characters has inspired f/f fanfic all over the Internet. Her novel, The Light of the World, is a pageturner.
About The Light of the World
A pageturning young adult urban fantasy, The Light of the World tells the story about Eva, a college dropout living with her parents and figuring out the next move in her life who becomes entangled in a mystery about her beloved grandmother, who dies and leaves behind diaries that Eva finds fascinating. In her diaries, her grandmother talks about a mysterious young woman named Wren, who she seemed to be in love with and who apparently carried around with her a terrible secret about someone or something called the light of the world.  Buy The Light of the World by Ellen Simpson now.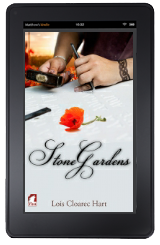 In Stone Gardens, Lois Cloarec Hart turns in another literary tour de force, perhaps her best book yet, a contemplative story about finding the courage to heal and finding the courage to trust.
About Stone Gardens
Grae Jordan has fallen far from the heights of a privileged life she was born into: adorned with numerous tattoos and piercings and saddled with convictions for petty crimes, Grae has done everything she can in the last eight years to build an invisible wall around herself, shutting out family, neighbors, coworkers, and any woman to whom she might feel an attraction. She sure as hell never expected a skinny street kid named Marcus to be the one who breaks through her protective isolation. But her connection to Marcus opens the door to other friends and allies, and an attraction to a woman determined to show Grae that loneliness is not her destiny written in stone.   Buy Stone Gardens by Lois Cloarec Hart now.
The Sum of These Things, Emily O'Beirne's eagerly anticipated sequel to this summer's A Story of Now, catches up with Claire Pearson on the next step of her journey to love and true independent adulthood. With the holiday giftgiving season coming up fast, Book 1 and 2 in the A Story of Now series are the perfect things this year to introduce to the teen girl in your life.
About The Sum of These Things
Claire Pearson has already learned a few things this summer: like, for example, falling for a girl is easy. Well, easy if that girl is Mia.
What Claire hasn't learned yet, though, is how to trust in this new relationship. After all, no one has ever given her a reason to trust before. Then there's also the pressing question of what to do with the reset of her life. Claire's new volunteer job working with children holds promise for a career, but her pushy mother definitely isn't going to like it. Claire is armed with new friends and the warm, funny Mia, but she's not done negotiating this new terrain called adulthood. The biggest lesson Claire must learn this summer is how not to let anything get in the way of her happiness. Especially herself.  Buy The Sum of These Things by Emily O'Beirne now.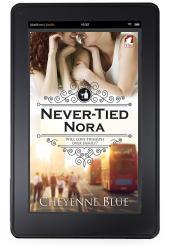 Author Cheyenne Blue is not by any means new to lesfic. Her erotic and romantic short stories and novellas can be found in several anthologies, including one of Ylva's anthologies last year, All You Can Eat. So we're very proud that Cheyenne came to us when she decided to publish her first novel, Never-Tied Nora,  a lesbian romance that flips around the classic romance trope of the heroine who tames the promiscuous heartbreaker, and instead has the reader rooting for the rogue.
About Never-Tied Nora
Nora Kelly, a Londoner with a very big, very Irish family, is always looking for the next woman to seduce. Her family teases her about her endless conquests, but Nora is not planning to ever lose her heart. Enter Geraldine, who as fate would have it, violates Nora's family's one rule about her dating choices – never date a Flannery. The Kellys and the Flannerys have been locked in a vicious feud ever since both families arrived from Ireland sixty years ago, and time has done little to cool things down. But much to her consternation, Nora finds herself falling head-over-heels for Ger. Can our never-tied Nora convince the woman of her dreams that they are meant to be together – family rules be damned?  Buy Never-Tied Nora by Cheyenne Blue now.