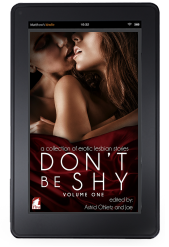 Just a quick reminder that all day today, you can find our erotica anthology, Don't Be Shy Vol. 1, for the low, low price of just $2.99, part of our new series we're calling Ylva Super Sunday Specials.
This is an excellent chance to be introduced to some of our authors you may not have had a chance to check out before and some new Ylva authors who have books coming out soon. Twelve stories for a low-risk price  – literally 25 cents per story.
So, don't be shy: buy this sizzling-hot erotica anthology now. Today is a perfect day to get Don't Be Shy Vol. 1 in e-book and find a quiet place to settle in for a lazy, sexy Sunday.
Enjoy!