Sundays just got a little better.
Why? Starting this Sunday, We've handpicked some of our favorite Ylva titles to offer you at a price too good to pass up. We're calling it out Ylva Super Sunday Specials.
So what exactly is an Ylva Super Sunday Special? It's a pretty simple but brilliant concept. Here's all you need to know:
Every Sunday, for one day only, we offer you one of our quality lesbian fiction titles for just $2.99. You just show up and click. We'll do the rest.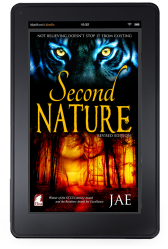 First up this Sunday is Jae's bestselling paranormal shapeshifter novel, Second Nature. It's an incredible deal on a book from a much-loved series by one of Ylva's most popular authors.
ABOUT SECOND NATURE by Jae
Novelist Jorie Price doesn't believe in the existence of shape-shifting creatures or true love. She leads a solitary life, and the paranormal romances she writes are pure fiction for her.
Griffin Westmore knows better—at least about one of these two things. She doesn't believe in love either, but she's one of the not-so-fictional shape-shifters. She's also a Saru, an elite soldier with the mission to protect the shape-shifters' secret existence at any cost.
When Jorie gets too close to the truth in her latest shape-shifter romance, Griffin is sent to investigate—and if necessary to destroy the manuscript before it's published and to kill the writer.
Come down anytime this Sunday, Nov. 8 and pick up your copy of Second Nature at a very special price. But don't wait too long. It'll be gone in a flash.
See you there!