The power to defy all
Ylva's two new books out this week, Red Light by JD Glass and The Tea Machine by Gill McKnight, couldn't be more different: one is a fantastical steampunk romp set in the UK, while the other is a gritty novel set on New York City's mean streets.
But they share two things in common: both are from veteran lesbian fiction authors we're proud to have onboard, and both are about love's power to defy everything – family divisions, heartbreak, intergalactic war, or even the march of time itself.
You heard that right. Time itself.
Look for The Tea Machine by Gill McKnight and Red Light by JD Glass, two cracking new novels from Ylva Publishing, now available exclusively in the Ylva online shop.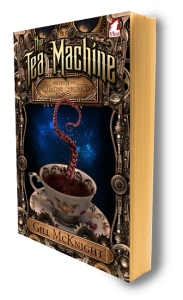 The Tea Machine by Gill McKnight
In The Tea Machine, love never dies…except it does, over and over again.
Millicent Aberly's meddling with her brother's time machine has flung her from her home in 1862 London into an alternative world where the Roman Empire neglected to fall. In fact, in true veni, vidi, vici, fashion, it conquered most of the known universe.
Millicent trips over the dashing Sangfroid, a seasoned centurion who, most inconveniently, dies while protecting her. Driven by guilt and a peculiar fascination for the woman soldier, Millicent returns over and over to save Sangfroid from her repeatedly fatal heroics. Not helping is the fact that, as with all scientific discoveries, time travel comes with a few bugs: for Millicent, that means a giant space squid in the upstairs tub and a meddlesome sister-in-law demanding tea—from goat-herding peasants, in a time before tea existed.
Together with Sangfroid, Millicent journeys through time, time and again, trying to right what a fateful, nosy inspection of her brother's latest project set wrong, and pursuing a love literally for the ages.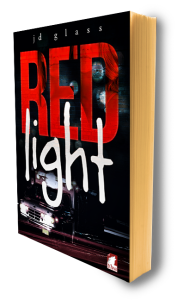 Red Light by JD Glass 
Love, faith, and blood all pour out under the red light of a New York City ambulance siren.
Victoria Scotts, known as 'Tori', is an EMT, an emergency medical technician. Despite her mother's objections, Tori works in some of the most crime-ridden neighborhoods of the city, supporting her family and looking after the public. But who will look after her?
On her job, Tori thinks she has found true family and her calling amongst a cadre of war vets looking to do some good and troubled souls looking to absolve their own pasts. With New York City's best, Tori falls in love—really, truly, passionately, a love that she's sure is not just for real, but forever.
But an injury and a deep betrayal make Tori question everything…even herself. She finds herself questioning the validity of her relationships, the ties of flesh and those that transcend it, and finally her faith in the innate goodness of people.