For the last six weeks, Ylva Publishing welcomed Lenir from Brazil as an intern and office dog whisperer. In this blog post, she tells us about her impressions of our team and office and what she learned about the world of publishing.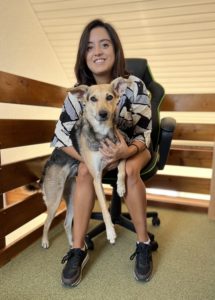 When I started my English Literature BA back in 2019, people were always asking me if I wanted to go into teaching.
"No," I'd say. "I want to work in publishing."
They'd nod their heads, maybe mumble something vaguely positive. But by the blank looks in their eyes, I knew they had no idea what that entailed.
And for all the research I'd done and courses I'd taken, I didn't fully understand either. Now, after six weeks with the Ylva Pack, I can say for sure that it is the right path for me.
Lesbian publishing house: first impressions
Before I came in for the first time, I was quite nervous. New people, new job, new country… But my anxiety didn't last long. As soon as Astrid and Daniela welcomed me in and I had a look at the cute wall art, the Funko POP toy collection on the shelves, the nerdy Dr. Who coffee mug in the kitchen, and, obviously, the number of books stacked on every available surface, I felt right at home.
Those first few days were a crash course, really. Astrid sat down with me and told me about the work process here at Ylva: how authors submit their ideas, we give them feedback before they start writing, then again after we receive a manuscript, how we create the cover, market the books, and sell them, and how audiobooks come to be, too.
Truth be told, it was a lot. But I was hooked.
The Office—not the TV show, the place
Reading is a silent, solitary activity, so I assumed a publisher's office would be pretty quiet too. And a lot of the time it is, but not always.
Beyond the constant clacking of keyboard keys and video chats with partners, we chat and have a lot of fun together. We love talking about the latest fandoms we're obsessing over (at the moment, we're all watching A League of Their Own), giving each other book recommendations, and discussing our favorite ships. Oh, and the inevitable talks about sex scenes in whatever projects we're working on are always a riot.
From lesbian fiction reader to editor
I wrote a lot of literary analysis essays in college, and I figured that what editors did was somewhat along those lines. In reality, however, it's substantially different.
Of course, having that background makes it easier for me to have an insight into character development, pacing, etc. But when I'm reading a manuscript, I'm not trying to figure out the symbolism behind the green light in Gatsby or something like that. As an editor, you're looking at an unfinished product, so to speak, so you must also have a careful look at language use, sentence structure, dialogue, and more. You're checking for consistency, looking for plot holes, etc.
Changing my mentality from reader to editor is a learning curve, and I've still got a long way to go. But it's been wonderful already to see authors develop their drafts and make them better and better.
Marketing: how do books reach readers?
I believe in the power of great storytelling, and I decided to work in publishing because I wanted to help get stories into the hands of the readers who want and need to hear them. Marketing, as it turns out, is a huge part of that.
I knew nothing about it before I started this six-week experience, to be honest. And I have much to learn—just hearing the term "search engine optimization" still leaves me quite intimidated. But at the same time, it's really interesting to think about this other angle of the publishing industry, one that goes beyond the quality of the stories, and that ensures the business is successful.
When marketing a book, a series of factors are taken into consideration—target audience, genre, cover design, tropes, themes, release schedules, etc.—and I know it's something that is going to keep me very engaged in the future.
Becoming a wolf
All I ever heard about the publishing industry was how hard it was to get into it. So having the opportunity to intern at Ylva right out of college was a dream come true. I feel like I should stop and listen to that Lizzie McGuire movie song now, but alas…
This was an amazing experience. It went by so quickly, yet I've learned so much. I truly got to have an insight into this world that I've been passionate about for most of my life. And I got to do it with some lovely people and an adorable dog, too (Daniela Zysk's pooch, Stoner, is the office's official mascot, and obviously, we're now inseparable).
Thank you, Ylva Pack, for welcoming me into your team with open arms. I can't wait for what's to come.