Love is just a touch away in this newest release by best-selling author Jae. In this interview, she tells us about the inspiration for Just a Touch Away and which side character in this lesbian romance novel might get her own story in the future.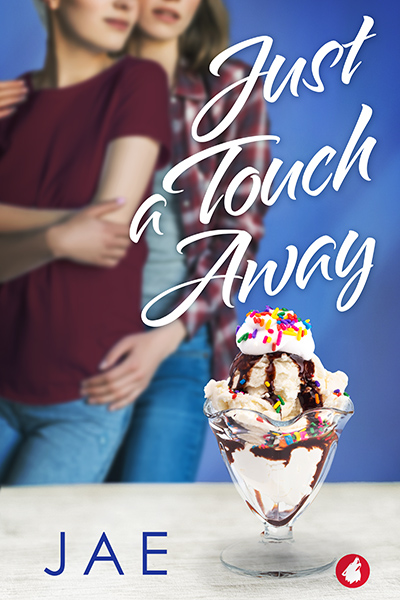 Can you tell us in your own words what your lesbian romance novel Just a Touch Away is all about?
It's a forced-proximity romance between two women who couldn't be more different: Hannah is a professional cuddler, while Winter is an ice queen who keeps people at arm's length. At the beginning of the book, they inherit an apartment building together, but there's a catch. In order to get their half of the building, they have to share the apartment on the top floor for 92 days.
At first, sparks fly as they argue about everything, and we get a series of fun scenes that show them engaged in a doormat war.
But then Winter's sister challenges her to book a cuddle session with Hannah, and everything starts to change…
Without giving too much away, what is one of your favorite moments of this lesbian romance?
I enjoyed writing the banter between Winter and Hannah, who really isn't the pushover Winter initially assumes her to be. I also loved the scenes in which Winter, the grumpy ice queen, starts to melt a little, especially when Hannah introduces her to cuddling.
Other favorite scenes were the Bound moment under the sink (you'll understand what I mean once you read the book) and the unique spin on the "there's only one bed" trope.
What inspired you to write a queer character who is a professional cuddler?
I came across professional cuddling on a list of unusual jobs online, and I knew right away that I would one day write a book about a professional cuddler. It's such a unique profession, and it's perfect for a character in a romance novel—especially when you pair her with an ice queen who doesn't like having people in her space.
What is the first impression your main characters have of each other?
They clash from the moment they first meet. Hannah is a friendly people person and usually gets along with everyone, but Winter really doesn't make it easy for her. Winter isn't too pleased to find out that her estranged father left half of the building to a perfect stranger. As an ice queen, Winter is used to people doing what she wants, so she's stunned and frustrated when Hannah refuses to let Winter buy her out. But, deep down, she reluctantly starts to admire Hannah for standing up to her.
Then Winter finds out what Hannah does for a living, and that sets off new sparks between them…
What romance trope are you excited to include in a future lesbian romance book?
Right now, I seem to be on an ice queen romance trip. Winter's half-sister, who has a few very interesting scenes in Just a Touch Away, is an ice queen too, and I already have a few ideas for her story.
I'm also looking forward to some day writing a sci-fi romance with an enemies-to-lovers trope.
Jae grew up amidst the vineyards of southern Germany. She spent her childhood with her nose buried in a book, earning her the nickname "professor." The writing bug bit her at the age of eleven. Since 2006, she has been writing mostly in English.
She used to work as a psychologist but gave up her day job in December 2013 to become a full-time writer and a part-time editor. As far as she's concerned, it's the best job in the world.
When she's not writing, she likes to spend her time reading, indulging her ice cream and office supply addictions, and watching way too many crime shows.