Probably every woman-loving woman has crushed on a stunning middle-aged actress before. And Tiana Warner delivers the age-gap celebrity romance about a star falling in love with her fan that you've been dreaming of. In this interview, she tells us about her new lesbian romance novel From Fan to Forever.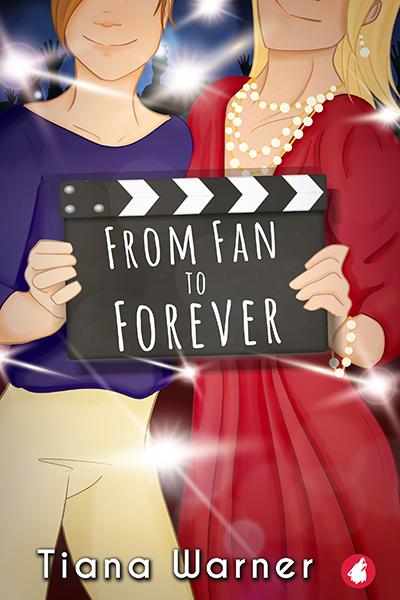 In your own words, what is your lesbian romance novel From Fan to Forever all about?
Okay, raise your hand if you've had a crush on a middle-aged actress.
Did basically everyone reading this blog raise their hand?
From Fan to Forever is a romance between Rachel, a master's student, and Cate, a middle-aged actress who is filming a movie in Rachel's neighborhood. Rachel is incredibly smart, which catches Cate's attention because she needs help learning about the physicist Marie Curie for her role in the film.
The two hit it off, which is the fantasy we all dream about—until the realities of dating an A-list actress start to catch up with Rachel. She has to learn how to overcome the increasingly aggressive cameras and gossip if she wants to be with Cate, a task made harder by some trauma in her past. The story explores how vulnerable we need to be and how much we need to work to better ourselves in order to be with the person we love.
From Fan to Forever is your first contemporary romance after writing young adult fantasy. How different was your writing process for this book compared to your earlier novels?
This book is way spicier than anything I've written before, and more focused on the romance. I wanted to write a more adult book in a contemporary setting, which includes sex scenes and no filter.
Coming from writing YA, where a lot happens off-page and the descriptions of intimate moments are less detailed, it was quite a change—and a fun one! I liked exploring more mature themes and getting deeper into the romance.
How did you come up with the idea for Clockwork Curie, the movie within your story?
When deciding what movie Cate should be filming, I wanted a role worthy enough for her character, which is why I chose to have her play Marie Curie. There's a moment when Rachel thinks, "As if a high-budget movie about science hero Marie Curie isn't awesome enough, they had to go and cast Cate Whitney as the lead. Excuse me while I cry feminist tears." This is how I would feel if one of my favorite actresses were to play a badass woman scientist in a Hollywood film.
I also wanted something that would fit the fun tone of the book, which is why I turned the film about Marie Curie into an over-the-top steampunk action movie. There's some absurdity to that. It just seems so "Hollywood" to over-dramatize a movie about a scientist by adding explosions and dangerous stunts.
Which scene of From Fan to Forever was the most fun to write and why?
I loved writing the moment where they kiss for the first time. They're in a hotel decompressing after a dramatic scene, and there's a culmination of feelings and uncertainty that is finally released. The result is sizzling. The first kiss/sex scene between two characters is always the best, whether you're writing it or reading it. So many pages of tension finally get released.
What are you working on next?
I've finished drafting my next book for Ylva Publishing, The Road Trip Agreement. This is a slow-burn romance that was also incredibly fun to write!
It's about two vloggers and a dog who team up for a road trip down the Oregon coast. I took the same trip to research the setting, and I think readers are going to love following these characters as they drive through the Pacific Northwest in a campervan.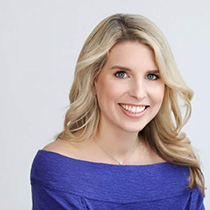 Tiana Warner is a writer and outdoor enthusiast from British Columbia, Canada. She is best known for her critically acclaimed Mermaids of Eriana Kwai trilogy and its comic adaptation. Tiana is a lifelong horseback rider, a former programmer with a computer science degree, and a dog mom to a hyperactive rescue mutt named Joey.