Not all couples get their happily ever after right away. But if it's meant to be, they might get a second chance. In the lesbian romance novel You're My Kind, British author Clare Lydon brings two women together who haven't healed from their broken hearts in 10 years. For the release of the novel's German translation, Weil es immer noch Liebe ist, Clare talks to us about writing second chance romance and the best cakes.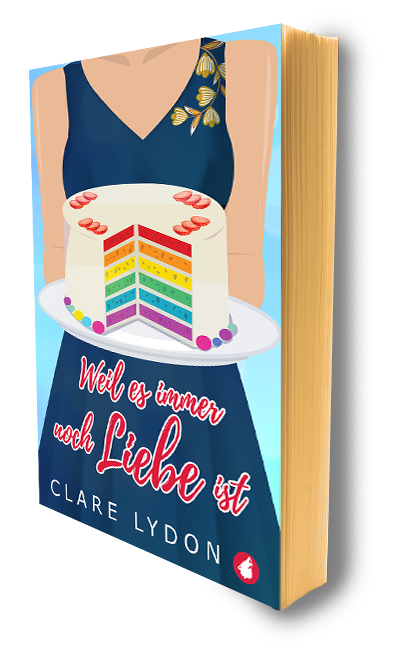 Can you tell us in your own words what your lesbian romance novel You're My Kind is about?
It's a second-chance romance between Justine Thomas and Maddie Kind, who meet again at a friend's funeral a decade after they broke up. They were each other's first loves, until Maddie left without a word. The book is about whether they can unpick the past and plot a future together, all set amidst a background of cake. Lots of cake. It's got laughs, love, and grief, plus oodles of fondant icing.
What do you think is the reason we love second chance romance stories so much?
Because we all have the one that got away, don't we? Whatever the reason: bad timing, too young, geography. Second-chance romances tap into that emotion, and answer the question, 'what if?' What if the person you once loved, but lost, walked back into your life and wanted to try again? What would you do, and how would it work out? Second-chance romances allow us to be a voyeur on other people's lives and see what they do. All with a guaranteed HEA.
Are there special challenges when it comes to writing a second chance romance novel?
No more than usual novel-writing issues! I think the key thing is to have a firm reason why the couple broke up in the first place, and then place enough obstacles in the way of them getting back together. I usually steer away from people cheating as the reason they broke up—it's normally a timing issue, or a personal fear, as is the case with Maddie in this story.
Which character from You're My Kind was the most fun to write and why?
I really enjoyed writing the lead character, Justine. I loved her character arc, and I also loved how strong she was, even in the face of the woman who broke her heart, the ex who counted most. She never lost her sense of humour, and she ran her cake school like a boss. Plus, who wouldn't fall for a star baker?
Your protagonist owns a baking school, so the reader will hear about cake decorating methods, beautiful big cakes, and of course, vagina cupcakes. What is the perfect cake for you?
I don't like anything too rich, anything too chocolatey or too fruity. My fave is a scone with jam and cream, or a classic Victoria Sponge.
I came up with the idea of a character who ran a cake school because there was one in my hometown, and I passed it every day. I asked the woman who ran it if I could sit in on a class, and she said yes. I interviewed her too, and she was a great source of inspiration. She actually had two women fall in love in one of her classes in real life!
But back to cakes. After the class I sat in on, the owner very kindly gave me the cake she'd made to take home. I can honestly say, it was the best cake I've ever had. Simple vanilla sponge, exquisite buttercream and jam in the middle, Italian meringue icing on the outside. I still dream of it.
Clare Lydon penned her first novel at primary school and it scored 9.5/10. She's still not sure what she was docked half a point for. A lack of lesbians, perhaps? It's not something anyone could accuse her of these days.
Clare's a Virgo, a Spurs fan, a karaoke queen, and a Curly Wurly devotee. She's also never owned a cat and runs screaming from anything DIY. She lives with her wife in London.
Contact:
Website: https://www.clarelydon.co.uk/
E-Mail: mail@clarelydon.co.uk