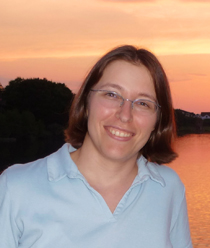 Ylva author Jae's wonderful, ice queen lesbian romance "Under a Falling Star" has just been released in French by publishing house Reines de Coeur (R2C). Jae has done an interview for her French readers and we're sharing the English version here.
Jae, the lesbian romance "Under A Falling Star" is your first translated into French, so French-speaking readers are discovering you for the first time. Tell us a little about yourself.
I'm a German writer of romances between women, but I write in English and then translate my books into my native language. That way, I can make my books available to more readers worldwide. Now I'm really happy that French readers get to read one of my books too.
I live in Freiburg, the sunniest city in Germany, which is just 40km from the French border. Once upon a time, I used to be a psychologist, but I gave up my day job in 2013 to write full time. So far, I have published 21 novels.
When I'm not writing, I spend most of my time reading, traveling (though not in 2020, of course), and eating too much ice cream.
You are a very prolific writer of lesbian books. Do you have a specific routine to help you write so much? And, tough question, are there any stories you prefer above others?
I'm pretty organized, which is a good thing since I need to make a living from my writing. Most of the time, I try to get my writing done first thing in the day. I shut off the Internet, which is a blessing but also a big distraction, put on some music, and then write until I make my daily goal of 2,000 words.
All other tasks such as doing research for the next book, editing, and marketing have to wait until the afternoon or evening.
Since writing lesbian romances is my passion as well as my job, I rarely take a vacation. Luckily, I can write wherever I am, so I can travel and see the world and still get a lot of writing done.
I'm a romance reader and writer at heart, so all of my lesbian books are romances. But within that genre, I like diversity, so I have written contemporary romances, historical romances, paranormal romances, and a few romantic suspense novels.
If you ask me for my favorite among my books…that's a tough question indeed, like asking a mother who's her favorite child. Among my favorites are Perfect Rhythm and Backwards to Oregon and also my latest novel, Wrong Number, Right Woman. Under a Falling Star certainly makes the top 5 too.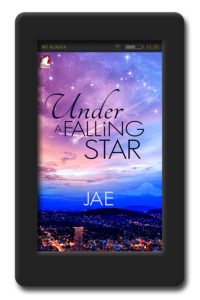 Your lesbian romances are available in German, English and now French. Did you envision this turn of events when you started writing?
If you had told me my life would turn out like this 10 years ago, I probably wouldn't have believed it!
I first started writing when I was 10 or 11, and I grew up thinking that you can't make a living as a writer, and certainly not when you write about women who love women…but it's possible, and it's wonderful to know that readers all over the world can read my lesbian romances in several languages—English, German, Italian, and now French!
I'm so grateful to all of my readers for making it possible for me to live my dream.
Tell us about your book "Under A Falling Star". How did the idea of this story come?
"Under a Falling Star" is the story of two very different women: Austen is kind, friendly, and upbeat. She has a full life, with hobbies, family, and friends. Dee, however, is the total opposite: She's ambitious, cool, and grouchy. Her life revolves only around her job as the second-in-command of her uncle's company.
They meet when Austen starts her new job as an administrative assistant in that company. Her first task is to decorate the company's Christmas tree. The star-shaped tree topper falls off and accidentally hits Dee in the head, so Austen has to take her to the emergency room to get stitches. She has no idea that Dee is her new boss, but she soon starts to see beyond Dee's cool "ice queen" demeanor.
The idea for the book started when my publisher put together an anthology full of romantic lesbian Christmas stories. I have no idea where the idea came from, but it all started with a "falling star" that brings together two very different women.
It was supposed to be only a short story, but the characters fascinated me, so I ended up turning it into a full novel.
The relationship builds gradually between your two main characters. Are you a slow-burn specialist of lesbian romances?
Definitely! I think I've been called the "queen of slow-burn romances." Slow-burn romance is my favorite trope because it allows me to build the relationship between the two main characters. Instead of jumping into bed on page 2 and declaring their eternal love on page 3, they slowly get to know each other and learn to trust each other. That way, readers can get to know the characters deeply too and watch them fall in love.
What did you enjoy most in writing this story and what did you like the least?
"Under a Falling Star" was a fun story to write from beginning to end. I enjoyed the way Austen and Dee communicate. There is a lot of witty banter and many humorous situations. I also enjoyed the scenes in which we saw Dee's emotional armor crack and we got a glimpse at the vulnerable woman beneath that cool exterior. Most people see her as cold and moody, but with Austen, she finally allows her tender side to show.
What I enjoyed least was part of my research: While researching in Los Angeles for one of the scenes in the book, in which Dee and Austen go on a business trip to Universal Studios, I took a ride on a raft that plunged 25 meters into a tropical lagoon…and I'm afraid of heights, so that was a scary moment. I ended up soaked, just like Dee and Austen, but I admit it was fun too.
For Dee, work is extremely important. She believes that she has to prove herself through her career, right?
Right. Dee comes from a family of entrepreneurs who are extremely competitive with each other. Their family get-togethers are more like business conferences, where everyone shows off their achievements. As the only daughter, Dee always struggled to prove herself to her father, so she tried to be the best in everything and focused totally on her career in her uncle's company.
It's only when she meets Austen that she understands how empty her life has been.
Austen and Dee both evolve during this romance. Is it hard to find the right balance to give each character equal importance? Which protagonist do you prefer?
In a romance novel, both characters are equally important. They both learn from each other and help each other grow. It's like a puzzle that is only complete with all the parts. So I don't really have a favorite. I could empathize and identify with both characters—I try to be kind and friendly like Austen, but I'm also a bit of a workaholic like Dee…which is easy to do if you love your job.
Austen has a pet that is neither a cat nor a dog. That's not common for a lesbian, is it? 🙂
It seems that lesbians in books either have a cat or a Golden Retriever! Austen has a cockatoo named Toby, and throughout the story, she tries in vain to teach him not to curse. When I was growing up, my family had a pair of cockatiels, which is where the idea to give Austen a feathered friend came from.
* Jae grew up amidst the vineyards of southern Germany and started writing at the age of eleven. She worked as a psychologist until 2013, when she started writing full-time. Jae is also the senior editor at Ylva Publishing.
When she's not writing, she likes to spend her time reading, indulging her ice cream and office supply addictions, and watching way too many crime shows.