"I'm genuinely big, large, plus size, way past plump or chubby."
I wonder sometimes if people assume I can't see or hear them, when they're watching me in a restaurant or when I walk past them at the train station. That somehow their tutting is silent, that their frowns or dragging looks are invisible to me. And what is it about me that draws such attention, you might wonder? The answer is quite simple.
I'm fat.
No, I don't have a thyroid problem. Yes, I have tried eating salad. Trust me, random person in the plane seat next to me, I wish this whole experience was more comfortable too. I'm not fat in the 'diet for a week and fit into your skinny jeans again' sense that magazines and Instagram talk about. I'm genuinely big, large, plus size, way past plump or chubby. That's right: fat. Like a lot of words, it stings a lot less if you can reclaim it and use it as a matter of fact.
Trying to Date as a Lesbian While Plus Size
I've written in the past about how that impacts on mental health and parenting, but one thing that bumps up against it sometimes is my queerness, and I wanted to talk a little more about that.
In some ways I'm lucky, and I realise that every day. I've been married for six years to a wonderful woman, and we were engaged or dating for quite a long time before that. One thing I've never forgotten though is the experience of trying to date as a lesbian while plus size.
Although I was a couple of sizes smaller last time I had to put myself out there, I haven't forgotten what it felt like. London had the notorious Candy Bar, back in the days before apps where you only had the bars or the GaydarGirls site to meet women. Walking in there was like running a gauntlet–that was the actual interior design of the space. To enter you had to walk down a narrow corridor past the bar, always populated by the skinniest, Shane-a-like lesbians in all of London. No matter how well-dressed I was, or how overpriced my haircut, walking in there always meant a physical appraisal: one I never seemed to pass.
Let's face it, there's definitely a look that dominates the visuals when queer women are profiled or featured in media. It's your Ruby Rose, Ellen Page, Cara Delevigne kind of woman. Model-thin, preferably petite in every way, and able to wear everything cropped, ripped, or barely-there without anyone batting an eyelid. While I celebrate these women and their impact on popular culture in terms of representation, I know it's going to be a long time before someone even approaching my size makes a splash. Partly because media in general doesn't think people above a size 12 exist, but that's in even sharper focus when you're already part of a minority group.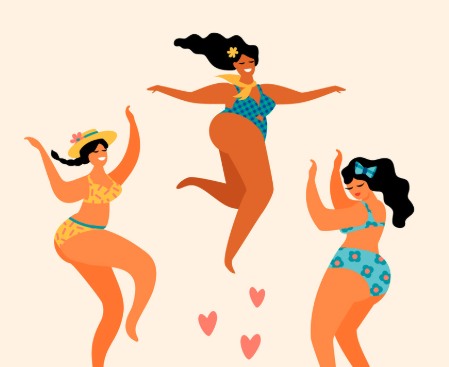 It's called fiction for a reason
Does it affect my writing? In some ways, no. After all, my first novel was about the most famously slender people in the world: ballerinas. Victoria Ford was inspired by Calista Flockhart, who even all these years after Ally McBeal is still cultural shorthand for 'too skinny'. I have been active for most of my life and didn't really put on weight until my late teens and early twenties, so I'm at least familiar with the exertion of sports and dance after spending years doing them.
I followed that up with surgeons, making Cassie a runner even though distance running is the closest thing I can imagine to hell on earth. Even when I was fitter it would take actual life-or-death pursuit to get me to break into a jog. And who's next? Professional tennis players.
But isn't that the point of fiction? To live lives that would be otherwise inaccessible to us, to put ourselves in the shoes, or trainers, of other people and imagine how the world looks to them. I'm never going to win Wimbledon, even though I have rejoined the gym so I can get access to the indoor courts, but I can research and imagine and extrapolate all the same. We're only limited by our imaginations.
Queer women in all shapes and sizes
That said, I'm currently working on my fourth novel, which is almost ready for a trip to the editors. In this book I'm having a lot of fun writing women and non-binary characters with varying body shapes, and plenty of curves to go around. I've been inspired by great characters like Lana in Jae's 'Just For Show' and awesome performers like Paula Pell in Wine Country. As I hope you'll all discover, these are people who are just as hot, sexy, and downright grabbable even if they don't have sporting or Hollywood-approved physiques.
The best thing about writing LGBT+ fiction is telling stories about people who deserve to be the hero of the piece for a change. That includes queer women of all shapes and sizes, classes, races, and nationalities. I want to see myself represented in more than the sarcastic remarks my characters sometimes make. Thanks to Ylva and the readers who keep coming to find new books, I'm really looking forward to making that happen.
Lola Keeley is a writer and coder. After moving to London to pursue her love of theatre, she later wound up living every five-year-old's dream of being a train driver on the London Underground. She has since emerged, blinking into the sunlight, to find herself writing books. She now lives in Edinburgh, Scotland, with her wife and three cats. Her new book is out later this year.