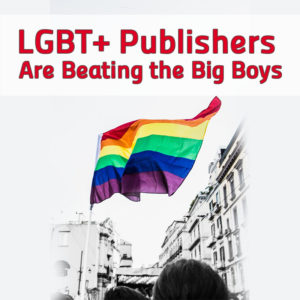 One thing readers who love diverse fiction will tell you is that traditional publishing houses have left some mighty huge holes in the market. "Diversity" is generally a catchphrase for those publishers, more than a real commitment. So if there's an author out there with a seriously un-vanilla, non-traditional protagonist or two, the struggle is massive to get published by the big boys.
By contrast, LGBT+ publishers might have much lower budgets and be smaller, or in some cases microscopically tiny, but they're making waves when it comes to catering to the diverse end of town. Here are just some of the ways the underdogs of publishing are dominating.
Diversity Is Not A Dirty Word. No, really
Although the majority of staff in the mainstream publishing industry is female, decisions are most often made by white males. Few authors identify as people of color and those from the LGBT+ community are rarely seen.
Jumping over to the rainbow lane, not only do queer books and authors abound – for obvious reasons – but the diversity of people of color among authors and characters is far greater. Yes, there should be more POC writers and characters to reflect the real world, and LGBT+ publishers know it. They say it. And some of them also really mean it. There is a push on for this, although again, it's not coming from the traditional end of town.
And by "gays", we don't just mean pretty white boys
Isn't it great when mainstream publishers, such as Penguin Random House or HarperCollins, get all excited about the fact they're becoming more open to publish LGBT+ themed books? But then it turns out the characters are all stereotypical white boys falling in love?
Yes, it's fab they're turning just a little pink (or is that a shade of fuchsia, darling?), but it's not enough to remember only the letter "G".
For actual depth in sexual diversity, LGBT+ publishers know they have to engage lesbian and bisexual readers, too. For example, one publisher, Queer Pack, an Ylva imprint, embraces all the forgotten letters and everything in between, from aro, non-binary, and asexual characters and beyond.
Rather than the occasional gay novel from the mainstream houses, you can find in LGBT+ offerings on everything from lesbian alien superheroes, trans kids, and same-sex love in India.
Can LGBT+ publishers do it better? Definitely. How about stories that don't have to include happy endings or be romances? Not that we're advocating for character deaths, but how about a new ending with a bit of a twist? What about all the different body shapes or lifestyles that aren't like something off a fashion spread? Dialogue that's more realistic? Homeless kids?
It's not only about representation, it's about authenticity. We need to hear our #ownvoices, without the use of stereotypes and clichés others might have about us.
Freedom and courage to take a risk
Mainstream publishers are not the ones publishing books that are original, innovative, or risky. As mainstream publishers they are, naturally, mainly interested in publishing books, even gay ones, that they can sell to mainstream audiences. Their focus is always the bottom line, so risks aren't something they're keen on.
LGBT+ publishers are used to taking risks by differing their content from the mainstream. Sometimes they know full well that a title or two won't sell, but they publish them anyway. Some queer publishing houses do this to be inclusive, well aware that books on, say elderly lesbians, or biographies on a little-known queer pioneer, won't sell in the thousands the way that hot doc and her sexy cop will. But they do it because it's important.
Another example is young LGBT+ authors. For a mainstream publisher, they're a niche within a niche, which means that's a risk many won't touch. LGBT+ publishers are aware that younger authors bring new ideas, stories, perspectives, and have a spin older writers may not have. And as for the risk? Well, see above. Besides, who better to talk to young readers than young writers?
So the bottom line is, have you ever heard of bibliodiversity – cultural diversity applied to the publishing world? There is a need to make as many different-themed books available to readers as possible. and LGBT+ publishers are right on that.
The future is in fighting back
For all that LGBT+ publishers are doing, they're still aware most readers have the luxury of living in a liberal country. That's not true for everyone. There are plenty of places where it's still very risky to be LGBT+ and we can't forget those readers. Did you know that one of the top-ten countries Ylva sells to is Russia? LGBT-literature serves as an escape, a safe haven for LGBT+ people.
As LGBT+ activist and screenwriter Dustin Lance Black once said: "Telling stories is one of the most potent skills in changing culture, because it starts with changing hearts."
As well as reaching into new borders, there's even more we can be doing. Most LGBT+ publishers are not yet presenting all letters of the LGBTQIA+ spectrum. We're not there yet. But we're on the way. It's a start.
And while the mainstream publishers lag behind, sometimes the smallest publishers are the ones finding a way to fill the gaps left behind.
Copyright picture above: Unsplash/Sara Rampazzo
Milena Klein is a former intern of Ylva Publishing. She lives in Mainz, Germany, where she is currently doing her BA in book studies at the Johannes Gutenberg University.
---
Visit us at Frankfurt Book Fair this year! Hall 4.1 E55, 10-14 October 2018.

---