Let me start off my saying, I attended this year's ClexaCon for the first time and absolutely loved it. I wasn't sure what to expect, but to my delight, I found a space filled with awesome queer energy. Attendees were diverse, friendly, and excited to be surrounded by the embodiment of this gif: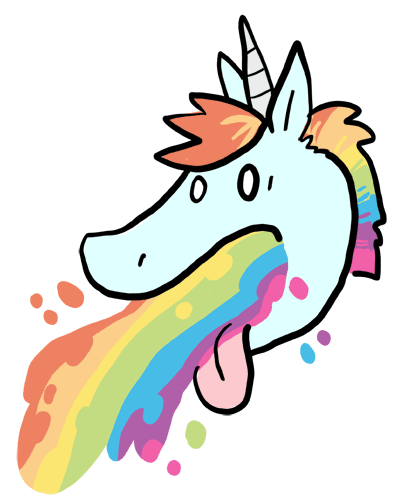 ALLIES ANONYMOUS
Our booth was located close to the autograph tables, and if I stood on my chair, I had a pretty good view of Chyler Leigh, Anna Silk, Kat Barrell, Elise Bauman, Caity Lotz, Generic White Actress #6, etc…
Don't get me wrong, I'm a big fan of many of these ladies, and even if I wasn't familiar with their work, I was a big fan of their faces. My only problem is that at one point, looking out at the tables, all I saw was a sea of white, mostly cishet actresses who played queer characters on TV. Now, I know that many of these actresses are amazing allies to the queer community—no one can fault Chyler Leigh's dedication to making sure that her LGBT+ fans are seen and heard, or dismiss how passionate Sarah Shahi and Amy Acker feel about their characters. I'm not implying that we dismiss these actresses or their contribution to queer fandom, only that when the majority of our "ships" are made up of straight, white women, there's a conversation to be had.
JUMP IN THE LINE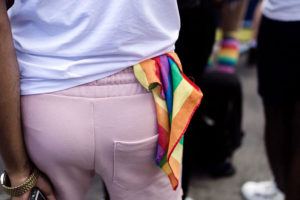 The problem is that we, as a community, so vocally demand representation, and yet constantly settle for white allies championing our favorite queer characters. A glaring example of this was the length of the autograph lines for Wynona Earp showrunner Emily Andras, versus that of Nafeesa Williams—a WOC who plays a lesbian superhero on the CW's Black Lightning. While Andras' line went on forever, there were moments where Nafeesa Williams had only three or four attendees waiting to speak to her. So, we have a white writer of a show containing a popular lesbian pairing getting significantly more attention than the first black woman to portray a lesbian superhero on mainstream television.
While I know not everyone is into Black Lightning, it remains our responsibility to support projects that showcase queer POC characters—isn't that what Tumblr is always yelling about?
WHAT KIND OF REPRESENTATION DO WE REALLY WANT?
This brings us back to ClexaCon—this wonderful, rainbow Shangri-La. A veritable ode to our deepest fan desires. Based on the most popular guests and most well-attended panels, it certainly seems like are deepest desires are lacking diversity.
It was heartening to see Legends of Tomorrow's Maisie Richardson-Sellers in such a prominent role and on panels with Chyler and Caity. It was amazing that Stephanie Beatriz had such support at her panel on bisexual representation. The Disabled Representation in Media panel was fantastic. But still, the majority of the excited tweets, posts and reblogs to come from the weekend featured actresses who, while very supportive, are on the periphery of the queer experience.
The problem then, is not ClexaCon… it's us.
I'm certainly not saying we can't be excited about our favorite pairings, or that we should only support projects that feature specific demographics, but it's useless to demand representation and not support it when we get it.
HOW CLEXACON CAN BE EVEN BETTER NEXT YEAR
The onus is on creators to diversify content and to employ queer actors. This isn't always possible, as the casting process is often tricky, but in my experience, listening to Stephanie Beatriz, a bisexual woman of color, speak about her experience, is far more significant than listening to Caity Lotz, straight white actress discuss the importance of playing a bisexual character.
The onus is us, as the consumers and audience to recognize the problem with a convention full of white, straight actresses portraying queer women, and to not only demand more diverse content, but also support it. Stand in lines, pay for photo-ops, tweet, watch, engage, and learn.
It's our responsibility to show conventions like ClexaCon that they need to find, celebrate and present diversity. This year was okay, next year should be better. There's room to grow, and I look forward to seeing how we, as attendees, determine and shape the content we receive.
Copyright pictures above: picsart / unsplashed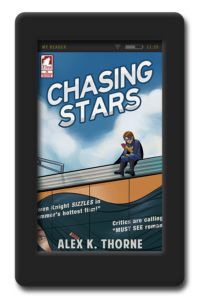 Alex K. Thorne graduated from university in Cape Town, South Africa with a healthy love of the classics and a degree in English Literature. She spent the next few years, teaching across the globe, from Serbia to South Korea, also writing fanfiction, and developing a kimchi addiction. When she's not picking away at her latest writing project, she's immersing herself in geek culture, taking too many pictures of cats, and dreaming about where next to travel. Alex just published Chasing Stars as part of Ylva's Superheroine Collection.