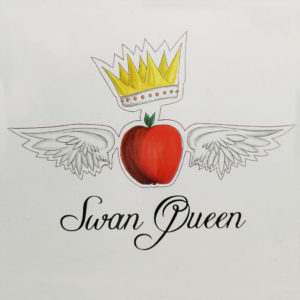 This week marks the end of Once Upon A Time, a show which sparked a love-hate relationship for many viewers, especially among its legion of lesbian fans. Former OUAT fanfiction writer and Swan Queen lover Lee Winter gives her list of the good, the bad and the ugly memories.
The Good … which always starts with Swan Queen
There was so much to love about Once Upon A Time, and fans always come back to season one and an amazing meeting. The day the woman who gave her son up for adoption met the ice queen who adopted him. Enter one of the most exciting pilots ever to air on TV, and the birth of an amazing new fandom… Swan Queen.
Sheriff Emma Swan, with her tight jeans, red leather jacket, biceps to die for, and swagger up the ying-yang, was a jaw-dropping new character for TV. And her occasional failure to remember to wear pants when answering doors made us all wish we were Jehovah's Witness. Methods to make her point included applying a perp's forehead to a steering wheel and chainsawing mayoral apple trees.
Her nemesis was Regina Mills, an uptight reformed evil queen, who favored pencil skirts, button-popping shirts (which she often forgot to do up), sultry glares, and lip curls of disdain. Aside from her modern-day mayoral role, she was great at multi-tasking evil schemes when not staring in anger* at the lips and eyes of her sheriff, while standing an inch from her nose. *Not to be confused as burning sexual tension.
The first time Mayor Mills offered bounty hunter-turned-sheriff Emma Swan the best apple cider she'd ever tasted, punctuated by a jaunty sway of her hips, the air between these two ignited. The games they played, the fights they had—it was like a complicated mating ritual without the cheap drinks. Fans later wound up with the hangover, though. But while peak Swan Queen lasted, the show was simply delicious to watch.
We'll forever savor smug desk-perching Regina waiting for Emma, which was totally not a come on; their clothes swapping antics, which was totally explainable although they never did; the holy-crap-they're-about-to-kiss approach to mine rescues; and that lil thing of combining their magic to save the world.
And, finally, even if the show's makers like to call Swan Queen "unintentional", we'll always have the fact Regina liked to ponder how to get the Savior to "taste my forbidden fruit".
Whoa, what a concept!
Imaginative and intriguing, this show began with one genius idea: Put fairy tale characters in our world with their memories gone. The result had such charm, with the perfectly matched blow-in Emma and imposing, ice-cold Regina who had a penchant for yellow-Bug clamping.
In heady season one, Gold was still dark and mysterious, Hood's two-note emotional range — primal glower and shitting dog — were not yet defiling our eyeballs, while Belle's absence spared us from her diabolical bogan Aussie accent. And Hook and his manpain had yet to make everything about him, including Emma's reason for existing and the whole actual show.
One perfect highlight was early Mary Margaret. Non-judgy, great friend, terrible dating history, and not too ashamed to admit it. Snow White imagined as a real woman? Flaws and all? It was fabulous.
This was when Once Upon A Time really worked. Centered on its core cast of Emma, Regina, Mary Margaret, and, to a lesser extent, Gold, the writers explored and picked apart their imperfections, strengths, and eccentricities. The result was so different and stoked so much excitement, buzz, and ratings, that it was as thrilling as the birth of a new Beyoncé meme.
Evil Isn't Born, It's Made
The worst villains are the ones as dull as your Great Aunt's souvenir teaspoon collection. They have no reason for doing anything beyond "Cos I'm bad/jealous". For the record, bland one-note heroes with treacly goodness clogging their veins are no better, which is why Snow pretty much got on everyone's last tit in later seasons.
Anyway, Once Upon A Time earns points for its value-added villains, especially for diving into their backstories. Some tales were heartbreaking (Regina), some uncomfortable in their human weaknesses (Rumplestiltskin), but they were fleshed out to some extent, giving viewers empathy for the characters. We got to learn that they weren't born evil, they were turned that way.
With fully formed villains, Once Upon A Time opened the door to something cool. Redemption arcs. Almost every black-hatter had a crack at going straight, and when one, Regina, succeeded in doing just that, it was as riveting as the eternally straining third button on her shirts.
The message was a good one, too: It's never too late for someone, no matter how bad their choices, to turn their life around. No one's too broken to be put back together. (Well, unless they're into Dalmatian coats.)
The sometimes glorious acting
When Once Upon A Time's cast was on fire, it was impossible to tear your eyes from it. Gold (Robert Carlyle) and Regina (Lana Parrilla) going toe to toe was phenomenal. Their showdowns were epic, and it's hard not to quiver just a little at how good some scenes were.
"What's your name!" an impatient Regina hissed through the cell bars at Gold in season one, wondering whether he knew his true identity. "Rrrrrumplestiltskin!" he declared with all the theatrical flourish of Severus Snape.
And when Regina and Emma weren't smoking up the screen, or Regina angst-splattering all over the place in her latest redemption arc, there was subtlety and humor that was just magic. Like the time Regina conceded, with a dry tone and stupendous eye roll, that she didn't want to kill Emma. Dramatic actors are one thing, but also finding ones with shades of gray, comic timing, lightness, and vulnerability, is what made the core cast really something.
The Mindblowing Costumes
The extravagant costumes were like an extra character and, thanks to Eduardo Castro's inspiration, it felt like being in another world. The evil queen, especially, strutted and wreaked havoc with an increasingly intricate wardrobe.
There were spectacular corsets that looked like ornate sculptures, tight black leather pants paired with dramatic, swirling capes, Russian ice queen furs, and bodices squeezed and scaffolded to produce bursting cleavages that seemed to mock gravity and physics. But, like magic, inventive costuming comes with a price.
In a 2012 interview with PerthNow, Lana Parrilla said: "It's very difficult to breathe in those things. I once ate a quarter of a cheeseburger and it got stuck in the middle of my chest. I had to remove the corset in order to swallow it. That was it — I went on a liquid diet. It's very, very challenging, not only to eat but to go to the bathroom. I need two people to help me go!"
Otherworldly costumes weren't the only interesting creations. The modern-day garb in season one – screw-you leather jackets squared off against strutting suits, popped collars, and lethal heels – was a real Why, hellllo, there for fans of Regina and Emma.
I freely admit, I'd shamelessly vote for an evil mayor just to watch her strut about in apex-predator power suits and THAT shirt. Mercy.
Yeah, but Don't Forget the Bad
I know, I know, yes, the show had its problems, which from some angles you could ignore if you were so inclined. Here are a few.
Heteronormativity
Once Upon A Time's gay panic after Swan Queen garnered thousands of fans sunk the greatest fandom ship that never was, as love interests of the fiercely heterosexual variety were hastily flung at the duelling leads. Because, hey, what could possibly be believable about two people who share a kid falling in love? And who'd care about an evil queen falling for the heroic savior who destroyed her curse? It's not like that sounds awesome or logical or anything.
But that's okay, they tossed us some side characters going from zero-to-lez-in-thirty seconds. Look, see, they're snogging like they're trying to win a radio contest. And that's, like, exactly the same as Swan Queen, said no one ever.
However, a big thumbs up is earned for the Alice/Robin (jnr) relationship in the final season that was slow-burn, real, and sweet. It's no Swan Queen deal, but it was organic at least, and younger queer fans could finally see themselves properly portrayed in this fairy tale show.
A little more conversation…or any
Wouldn't it be nice if the core characters spent five minutes on their interpersonal issues instead of chasing the next boogedy thing down a portal nobody gives two shits about?
Like, hey Emma, sooo, you found your folks after feeling abandoned for thirty years? How'd that feel? Bet that was worth a convo. Better yet, a conversation with her parents. By that I mean in season two, not five bloody years later.
Or maybe Regina could tell Snow what life with Snow's perfect father was like? Maybe Regina might also want to spend two seconds processing getting tortured. Or Hook could express a drop of remorse over leaving Regina to her torturer, or conspiring with Cora to destroy Regina.
Perhaps Regina might want to fess up to killing Graham? Or mind-wiping Henry? And, hey, how does Emma feel about her acerbic bestie and her broody boyfriend both being up to their eyeballs in dark doings? That would be great to resolv… Oooh, look! Giant!
Loose ends? Meh…
Sometimes I wonder whether Once Upon A Time's motto was: let no once-major plot point be resolved. Emma's wrist tattoo? The Home Office? Red's true love is Dorothy! Wait, didn't Mulan have a thing for Red…or was it Aurora? I'm fairly sure she said she loved a person and they were just the awesomest. Say, where did Mulan go? What happened to Merlin? Or the first Rapunzel? Uh, guys, did you forget she was black?
Cashing in and selling out
Less said the better about how overt this was. No, really it was laughably awful. There was the excruciating Frozen, Brave, and a few other not-even-trying-to-hide the show-hogging, Disney toy product-placements…I mean storylines.
An inbred family tree befitting any royal family
So pay attention. Here is just one slice of the show's mindfuckery: Emma's first love coincidentally turned out to be a fairy tale character. Her scruffy man-child boyfriend, Neal/Baelfire, was also Gold's son, a young man raised by Captain Hook before Neal ran with Peter Pan (Gold's father) and the Lost Boys. Hook then became Emma's boyfriend. Although first, she had a big flirtation with Regina's lover/former sex slave, Graham, as well as a fiancé who turned out to be a flying monkey for the Wicked Witch. That witch, Zelena, was also the sister of Regina, the mayor/ex-evil queen who adopted Emma's son. And, just FYI, by Gold, we mean Rumplestiltskin, aka the Crocodile, aka The Beast. Do keep up. Frankly, we're all Milah in this scene. (Go to the one-minute mark.)
Drowning in so much dumb stuff
By dumb stuff, no, I'm not talking about David although that IQ-deficient galoot couldn't even grasp Henry has two sets of grandparents. (They gave this guy a gun?) Nor am I talking him and Snow ditching their newborn baby to go traipsing around the Underworld with Emma. You know, let's make up to the first kid we ditched, by ditching the second? Like that'd never end badly. Nope, the A-grade dumb stuff was asking usually dignified actors to issue commands into CB heart radios, to control people via their cartoony glow-hearts.  Amazingly, it looks even worse than it sounds. How they didn't all call their agents ASAP after that silliness is mystifying.
RIP season-one Emma Swan…
Remember where we came in?  Tough, sassy, perp-on-steering-wheel slammin' Emma, who had charisma, sat with bloke-sprawl, and wore tank tops like a boss. Soft butch chic never came any finer. And then she got swapped with a pod double in a character travesty so risible I've never seen its equal before or since.
Emma morphed into the creators' pin-up feminine ideal and seemed to lose all purpose as she slept-walked through the final seasons.  By the time Once Upon A Time had its former kick-ass, cheeky, rebellious Emma tricked up for a date with Hook, like a teen girl off to her prom in the fifties, red rose clutched in quivering fingers, it was hard for season one Emma fans to stomach her ultra-girlish aw-shucks-ing.
Her studio-ordered, perfectly-eyebrowed pirate accessory was then surgically joined to her hip like a limpet, lest we forget that she's really into boys. Meanwhile her dire tragic, floofy wardrobe screamed "My mom has the matching outfit".
I kept waiting for Regina to give her a vigorous shake and demand she snap out of her Stepford Girlfriend haze, given no one else seemed capable of noticing Emma's silent cry for help.
Episode pitch: Regina calls in the cult busters, with Henry's assistance, called: Operation Just What In The Hell Is Going On, Miss Swan?
This Show Had Real Issues: the Ugly-as-Hades Stuff
Okay, so the above stuff is not so terrible. Not in a real-world-impact way at least. But the show also had some outright ugly issues, too, that contained awful messages, especially for younger fans.
The half-life of people of color
Final season aside, which, to give the show its due, did improve things markedly, for years Once Upon A Time had a color-desaturation problem. From Lancelot and Rapunzel to Sidney and Marian, the darker your hue, the faster your expiry date. Even Lana Parrilla, of Latina extraction, was supposed to have her character killed off in season one. Only Regina's huge popularity saved her. By contrast, the studio wasted no time in its haste to save Charming when he was intended for a pilot-episode bloody puddle.
In our diverse world, having a non-diverse cast these days really stands out like dog's ears. There's no excuse for a cast that would almost entirely disappear against a backdrop of a pile of freshly laundered hotel towels.
While it seems like they finally got the message in the last season, with a thoroughly diverse new cast list, it did feel a bit too little, too late by then, as half the fans had already left.
One dodgy adoption message
"I went to find my real mom!" said Henry in the first episode to his adoptive mother. Ouch, kid. Heat-seeking-missile accuracy of a bitch slap right there. Although they had some valid reasons, Once Upon A Time often forgot that by treating then-evil Regina's relationship with her adoptive son as not kosher was a terrible message. Adoptive parents and their kids rightly hated it and complained. Apparently the showrunners needed persuading by Lana Parrilla that Regina did love her son and reminding that although Emma was blonde, pretty, and the hero, she really did have zero rights to Henry after signing them away years ago.
Sexist double standards
Not all villains were created equal on Once Upon A Time. If Regina Mills so much as twitched, Grumpy would call it proof she's evil again. Gold, also with a murderous past but with a lot less guilt about it, had no such issues with the torch-waving populace.
Regina's redemption arc went for five seasons, involved Mercedes Benzes of tears, caves of self-sacrifice, and surviving the magic DTs, while being hit with narrowed eyes at every turn. Hook, by contrast, had the Disney Express Queue redemption arc, faced up to and paid for little of his dastardly past, and still wound up bedded and wedded to the female hero. Anyone would think men can literally get away with murder or something.
Good ole-fashioned bait and switch
A show initially praised by critics and fans alike for its female focus, with three impressive, strong women leads, Emma, Regina, and Snow, slowly morphed into a show about men, or the women's roles as love interests, to be precise. Name one show where the reverse has ever happened. I'll wait.
Fans who loved early Once Upon A Time, with women causing havoc, cracking heads, and saving the day — before the characters discovered they vitally needed male limpets to do all the above with them — had every right to feel like they'd been fleeced worse than a carnie's mark.
Abuse was romantic or an act of love
Once Upon A Time writers should probably look up what "protect" means in the dictionary. Hint: It does not include pregnant teenaged girls, framed and tossed into jail by boyfriends for their own good.
Or young, despairing queens trapped in loveless marriages to elderly husbands who spy on them and lock them in their rooms.
Or Dark Ones lying and lying and lying to their true loves and hiding disturbing secrets.
Or sleazy pirates with anger-management issues and an eyeliner surplus whose crappy behaviour is explained away by the girlfriend as her fault—because she doesn't make it easy for him to stop lying to her.
But hey, boys will be boys. All this hard-core protecting of women is love, I tell ya. It's something for impressionable young girls to aspire to and think is totally fine if their boo does it too.
And the big one … consent was optional
Did you ever watch a TV show and wonder if the writers realized what a toxic, troubling slimeball they'd just evacuated from their creative bowels? I thought Stargate: Universe, with its awful body-hopping consent nightmares, was the worst. Somehow, Once Upon A Time outfestered even that hemorrhoid pile, because a show about fairy tales seemed to think rape and dubious consent were such tasty plot points that they needed repeating, again and again.
It's a pretty awful list. Characters endured implied marital rape (young Regina with the "lonely" old king Leopold) and sexual-slavery rape (a horrified Huntsman dragged to the Evil Queen's bedchambers).
During the curse, many characters bedded people they'd never have touched if they'd had their memories whole and could give informed consent (Graham with Regina, David and Katherine with each other, and Mary Margaret with Whale, to name a few).
But teetering high on the steaming gross heap was that Hood and Hook both conceived children after believing they were having sex with women they cared for, only to discover she was really a villain in disguise. In Hood's case, his wicked villain demanded and won custody of his daughter. Imagine the outcry if the genders had been flipped?
But not a single writer cleared their throat and said, "Uh, guys, maybe ditch the creepy non-consent furball?"
In sum, this family show sometimes felt as messed up as Law and Order: SVU* and that series is about sex crimes. * To lighten the mood, here's a gratuitous pic of Detective Benson checking out Alex Cabot on L&O:SVU. You're welcome.
But…The good outweighs the bad, right?
Right! Absolutely. This is absolutely correct, if you weren't massively invested in Swan Queen. Or Emma staying true to character. Or you wanted Belle and Gold in a healthy relationship more than twenty percent of the time. And did we mention Swan Queen? No, really, they'll give us rape and torture but not Swan Queen?
In the end, for all its sometimes terrible and oblivious faults, Once Upon A Time was a memorable show. The final season had some really lovely feel-good moments to even out a lot of the rough stuff that came before it, even though it lacked the charm and freshness of season one.
Overall, Once Upon A Time had a cast capable of stunning performances, sizzling chemistry, and created memories that would last forever for fans. Most importantly, it started a powerful fandom that's still strong, and inspired thousands of fanfics, art, and videos.
Pretty impressive for a quirky idea about fairy tale characters coming to our world.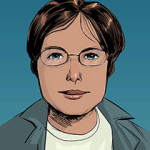 Lee Winter is an award-winning veteran newspaper journalist who has covered courts, crime, news, features and humor writing. Now a full-time author and part-time editor, Lee is also a two-time Lambda Literary Award finalist and a double Golden Crown Literary Award winner. She has just published The Brutal Truth with Ylva.