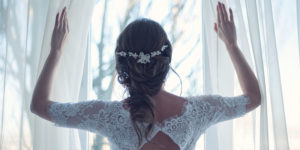 On January 9, champagne popping, cheers, and wobbly cries of "I do" will sound across Australia as same-sex marriages are finally allowed to be performed. But amid the joy and rush to the altar, there's another side to the big day. Those who missed it.
When I was a girl, the must-get-married gene passed me by. It's like I knew, even as a five-year-old, that the white frock, husband, and rice-flinging deal wasn't for me, so I ignored it. And by ignored, I mean I went into total denial.
For me, having a working knowledge of how weddings are flung together was as surreal as studying for dolphin swimming or Everest scaling. Some things you know are for the other girl, so I simply avoided all of it.
THE DAY THE LAW CHANGED
How things change. Last month, same-sex marriage made it into law in Australia, and the public gallery burst into song, making me proud, shocked, and sob like a sooky two-year-old.
Same-sex marriage had been sitting on the backburner here for years, as country after country suddenly flipped their neon signs from "no" to "yes", and Australians realized, a little sheepishly, that we were still sitting in the dark.
On January 9, our own Yes sign flips on, as the first same-sex weddings take place.
FIRST IN LINE FOR SAME-SEX MARRIAGE
Four couples are among those who have already gotten married in Australia – able to skip the waiting period due to exceptional circumstances.
Two couples had family already coming from overseas for pre-arranged, non-Australia-recognized ceremonies before the vote to "yes" suddenly meant they could tie the knot for real.
Two other lesbian couples married ahead of the queue for "health reasons". Each pair contained a woman who feared she wouldn't be able to hold onto life long enough to marry after January 9.
What a sobering thought. Suddenly my mirth at having all the wedding savvy of a stray cat seems so frivolous.
GAY DE FACTO'S WORST NIGHTMARE
Tasmanian gay rights activist Rodney Croome emotionally summed up what marriage equality was really all about just after the vote passed in Canberra last month. He said it was for those "those who've gone before us and those who are yet to come".
Those who are gone. We forget, amid all the jubilation, that some couples have waited for years, even decades, and never made it. How gutting.
I remember two high-profile cases in particular, but there have been many others.
Two years ago, Ben Jago, and his live-in partner of five years, Nathan, planned to "jump the ditch" and travel from Australia to New Zealand to get married. Sadly, Nathan killed himself before that could happen.
Officials compounded the sheer awfulness of Nathan's death by deeming his estranged mother was his closest living relative. Ben was not allowed to see his fiancé's body or plan the funeral. The treatment of Ben was a shock to many ordinary Australians in discovering that de facto same-sex couples were not treated the same as heterosexual counterparts.
As one rueful Tasmanian official told The Guardian Australia, "the great thing about a marriage certificate is that everyone understands what it means and no-one can challenge it".
HONEYMOON HELL
The second, higher profile case was that of married English tourists. David Bulmer-Rizzi was on his honeymoon in Adelaide with Marco, his husband of five years, when David fell down some stairs and died.
Adelaide officials found that there was no provision for a same-sex married couple to be acknowledged on the death certificate as the next of kin and no way to leave David's marital status blank, either.
"Literally within an hour, I had no choice but to deny that we ever married," Marco said.
It got worse. David's father in the UK still had to sign off on all the funeral arrangements even though he had no problem with Marco organizing everything.
The shock waves of this event were so roundly condemned that the South Australian premier issued a formal apology to Marco and worked out how to fix it to ensure it never happened again.
Now, due to same-sex marriage in Australia, it can't happen again.
ADDING ASTERISKS TO OUR RIGHTS
There's still a bit of a bumpy road ahead, though. A conservative ex-Liberal Government minister, Philip Ruddock, has been assigned by the Prime Minister to head up a panel investigating protecting religious freedoms in light of the same-sex marriage law passing.
In other words, his panel will look at who gets to decline, on religious grounds, their services to a same-sex couple. Ruddock is the same man who, in 2004, introduced the legislation banning same-sex marriage in Australia to "protect the institution of marriage".
It should be a depressing, rhetoric-filled few months for LGBTQ+ Aussies when Ruddock's panel reports its recommendations in March.
In the meantime, my focus is with Croome's words about those "who have gone before us and those who are yet to come".
ALTARED STATES
Those who are yet to come are the people I am so excited for. Not just for myself – although it's a surreal feeling to realize that something you assumed would be impossible in your lifetime is suddenly within reach. I'm still getting my head around that, as well as how little I know about putting on a wedding.
I'm thrilled for the youngsters today who won't ever feel less than due to a law that once varied depending on one's sexuality.
I'm heartened for the parents, like the magnificent lesbian ALP senator, Penny Wong, who just want formal recognition of their couple status for them and their families.
I'm delighted for couples who have been together for a year or for decades. They're all free to marry the ones they love.
LOVE WINS
But most of all I'm overwhelmed for four, brave women: Anne Sedgwick and Lyn Hawkins, and Cas Willow and Heather Richards. They're the couples who had to get married early for health reasons.
Sadly, Lyn passed away on December 29, just twelve days after they married, after losing her battle with ovarian cancer.  Anne said those twelve days made such a difference to them.
"It just really cemented for us what marriage is about," Anne told The Sunday Times. "The bond between us just grew and grew over those twelve days. She'll be remembered now through our marriage. It's on the records."
For Heather, who has been with Cas for seventeen years, and whose new wife has advanced breast cancer, a wedding is not just a piece of paper for them, either.
It means the world.
"It means our relationship won't just be tolerated," Heather said. "It will be accepted."
(Copyright picture above: freestockpro.com)
Lee Winter is an award-winning veteran newspaper journalist who has covered courts, crime, news, features and humor writing. Now a full-time author and part-time editor, Lee is also a two-time Lambda Literary Award finalist and a double Golden Crown Literary Award winner. She has just just published The Brutal Truth with Ylva.